This weekend, Fort Worth's Texas Motor Speedway hosts the PPG 400 NASCAR Camping World Truck Series Friday at 8 p.m., the DXC Technology 600 IndyCar Series Saturday at 8 p.m. and two Off-Road Truck events sprinkled between. 

Plan ahead for traffic and get there early. Here is what to do in and around the track and city before the checkered flag waves!
Where to Eat at the Track
One thing you'll want to do is eat (we're very sure about that). Inside TMS, you have plenty of concession stands to choose from. For a unique dining experience, you can check out The Speedway Club on the 8th floor of Texas Motor Speedway's office building or the Torchy's Tacos in the infield. 
TMS still offers its fan-friendly cooler policy. One cooler each is allowed in as long as it's no larger than 14" X 14" X 14. You must allow track security personnel to inspect your cooler for glass and other prohibited items.
Where to Eat at Nearby
In recent years, a deep selection of restaurants has sprung up around the facility at the intersection of 114 and I-35W. They include:

•    Chick-fil-A
•    IHOP
•    In-and-Out Burger
•    Panda Express
•    Rosa's Café and Tortilla Factory
•    Sonic
•    Starbucks
•    Whataburger
And, of course, there's Buc-ee's, too, in case your craving is for a humungous bag of cashews or cherry sours. And for shopping, in addition to Buc-ee's selection of Texana, you can cruise the Tanger Outlets next door.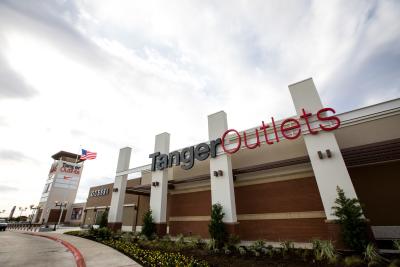 Further afield, Fort Worth can feed you whatever you'd like, including landmark eateries like Joe T. Garcia's and Reata. Our sources tell us the Hard Eight BBQ in nearby Roanoke is also a driver favorite.

Additional Events
What else fun can you do when you're not absorbed in the two big races? Well, how about more racing? In addition to qualifying laps for the main races, you can find ancillary races happening all weekend on the property.
Thursday and Friday, you can check out Legends Racing at the Lil' Texas Motor Speedway a few steps east of the big stadium. The No Limits Offroad Rumble features the SPEED Energy Stadium Super Trucks, with qualifying taking place before the DXC Technology 600 and the race starting 30 minutes after the Indy Cars finish.
In addition, you can watch USAC racing activities Thursday through Saturday in the PSL lot, located off of Stewart Road on the southwest side of the complex.
The south infield will host the Outdoor Powersports Offroad Ruckus from noon to 8:00 p.m. both Friday and Saturday. Activities include Jeep & UTV rides, live music, a car crush, a truck tug-of-war, an obstacle course, and various goings-on geared toward kids.
You may also encounter the LugNutz Crew, Texas Motor Speedway's official ambassadors of fun. Look for them providing games and giveaways to fans, or just letting out some big whoops.
Live Music
For musical entertainment, if you book it down to Billy Bob's after the race (don't speed - that's only for the men and women on the track), Robert Earl Keen goes on stage at 10:30 p.m. Friday, and Sunny Sweeney at the same time Saturday.
Other shows in Cowtown include:
1. Doug Burr, Jake Paleschic and Garrett Owen playing Main at South Side on Friday
2. Former Tower of Power singer Larry Braggs comes to the Scat Jazz Lounge Friday
3. Holy Moly plays its Grasshopper Campfire Tribute to Troll at Lola's Saloon Saturday
4. Shipping & Receiving Bar hosts a Songwriter Showcase Saturday
 
Of course, you can get plenty of entertainment inside the seating bowl, too. Big Hoss is billed as The World's Largest HD TV Screen. It's in the middle of the backstretch so you can't miss it, although at its size, you probably couldn't miss it if it were located in Southlake. 

Rules of the Speedway
As you're having fun this race weekend, you should remember that while the speedway may be "No Limits, Texas," it does have a few rules.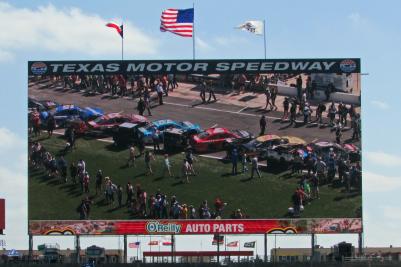 1. There's a new ban on e-cigarettes/vaping in the grandstands. Smoking there has been out of favor since 2013, but TMS cites guest surveys and feedback from its fan council as reasons for taking action on electronic cigs. You can still light up in designated areas throughout the lower concourse area.
2. Don't bring strollers, umbrellas, skateboards, scooters or roller blades inside. We expect they'd also consider mountain bikes and Segways inadvisable.
3. No firearms or other weapons, fireworks, illegal substances, and items restricted by local, state and federal laws are allowed.
We hope this helps you make the most of your track time this week. Enjoy the race and the food and the shows and the whole weekend! Official race weekend schedule here.