The repurposing of the old Texas & Pacific Railway Station's bottom floor into the vintage T&P Tavern feels like the ideal fate for the historic space that once bustled with thousands of people traveling by rail. The large space was once an important transit point both for soldiers heading to and from the fronts of WWII and dignitaries like Elvis Presley and Franklin D. Roosevelt. In 2002, T&P proprietors Joanne and Nathan Weber renovated the diner area into the current gastropub that offers a wide range of craft brews and classic diner fare.
"My husband and I both have an entrepreneurial spirit," Joanne recalled of that time. "We were immediately intrigued with the old T&P diner space and consider ourselves history buffs. We took these two components and completely self-restored this historical vintage diner into a modern day gastro pub."
The station boasts the largest covered patio in Fort Worth (5,000 sq. feet) and is a sight to see with a large roof and long, metal rafters hovering more than 100 feet overhead. The outdoor area holds several picnic tables and pets are welcome. Indoors, an equally voluminous dining area retains all the trappings of the original Art Deco designs and polished steel surfaces. The vintage decor belies the very modern craft beer selection, though, one of the best in town.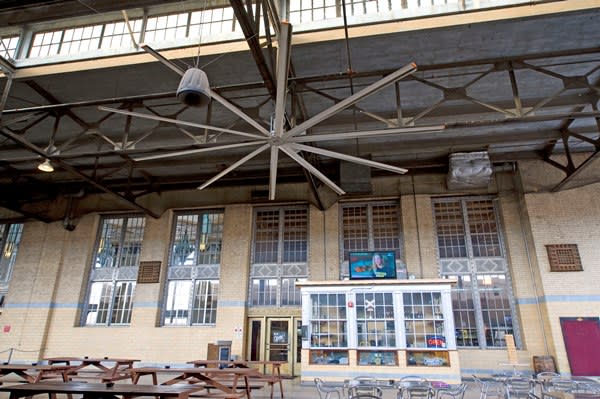 "We always try to have a broad and diverse spectrum of beer styles, never being too heavy on only the most popular style or fad, but rather having what we feel is a great representation that covers many flavor profiles," Joanne said. "We have enjoyed searching for the highest quality examples available in the Texas market of each of these styles, many being from local Texas breweries, other American craft breweries, and imports that are traditional to classic world styles. We constantly search for high quality examples true to style all while rotating great seasonals."
T&P Tavern hosts a rotating series of drink specials such as "Martini Mondays" and "$3 Draught Wednesdays." It's still a ways off, but keep this place in mind when Oktoberfest rolls around. T&P is hosting their 5th annual Oktoberfest October 3. Joanne admits there's a lot of competition out there for Oktoberfest events, but what makes T&P different is their authentic German Oktoberfest Beer Garden, similar to traditional ones held in Bavaria.
The beer, food, and entertainment, she said, are proudly authentic and pay homage to this popular holiday.