The Blue Zones movement began as part of the Healthy Cities initiative to help transform Fort Worth into a more livable, healthy environment with a better quality of life for everyone. Blue Zones® is based on almost a decade's worth of research into cities and countries where personal habits made a measurable difference in people's health, rates of disease, and longevity. The research produced a set of principles (called the Power 9®) which may help you live a longer, healthier life. The best part is that you're not committing to a diet or an exercise fad. You can start at any time, with whatever you have, and move forward. Here are our five suggestions for Blue Zones Project-friendly New Year's resolutions.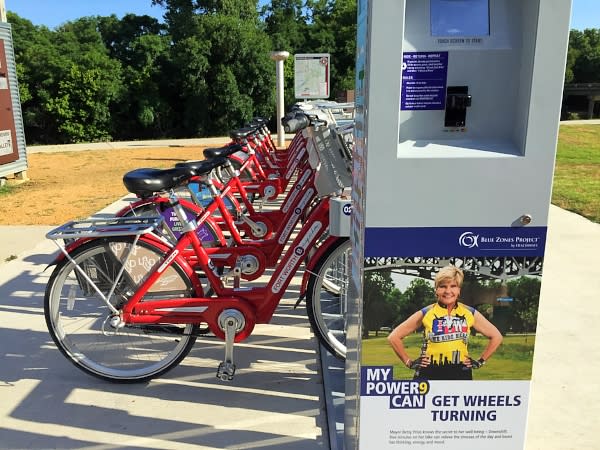 1. Move Naturally
Sure, you can join a gym or a yoga studio (there are several listed on the Blue Zones Project website here). But the Blue Zones philosophy simply encourages you to incorporate a little extra movement into every day.

Fort Worth has a plethora of outdoor walking, running, and biking options on the Trinity Trails. Walking around the Fort Worth Zoo or the Botanic Gardens can add miles to your day.  With 45 stations, Fort Worth B-Cycle offers both novice and experienced riders a way to see the city from borrowed wheels. The concept is like RedBox for bikes – simply pay for a bike rental at any station, and return the bike to any station. In addition to the for-profit gyms, the YMCA of Fort Worth has 13 locations, with the new McDonald Street Southeast Y coming soon. In the spring, Yoga in the Plaza in Sundance Square transforms the fountain area into an outdoor studio.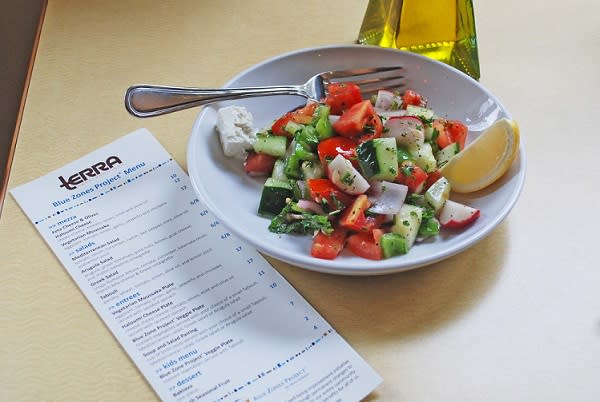 PC: Laurie James 
2. Eat Smarter
Eat light, fresh, and local, and stop eating when you're 80% full. You don't have to radically alter your plans when you eat out. But how about considering a Blue Zones-friendly meal once a week? Choosing whole-grain alternatives to bread or flour tortillas, selecting a plant-based protein entrée, sharing a bigger entrée with your dining companion, and reducing the consumption of sugar-sweetened beverages will start you on your way.

Restaurants with Blue Zones Project certification have made choosing a healthy dining option ridiculously easy, as the healthier choices are notated with a blue check mark. You can see the current list of restaurants here. Some are no-brainers (like Mediterranean cuisine hubs Z's Café and Terra Mediterranean Grill, and the vegan Spiral Diner & Bakery). But there are some surprises, like Buffalo West and Los Vaqueros, an early adopter of Blue Zones-friendly cuisine. Research shows that people in Blue Zones eat their main meal in the early afternoon, and enjoy smaller portions at an evening meal.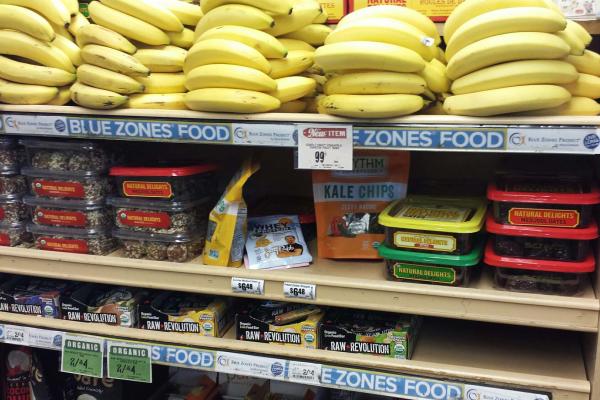 3. Take a Plant Slant 
Put more fiber-containing fruits and veggies on your plate. The Fort Worth Farmer's Market  and the Cowtown Farmers Market provide locally or regionally grown produce. The list of Blue Zones Project-approved supermarkets includes places you'd expect, like Central Market, Natural Grocers, and Whole Foods Market. But the Fiesta Mart on 8th Avenue is also a Blue Zones Project-approved supermarket. Another benefit to shopping at a Blue Zones Project-friendly market: There will be check-out aisles that don't have candy, soda, and refined food-laden snack foods so you (and your kids) won't be tempted. Find a list of participating grocery stores here.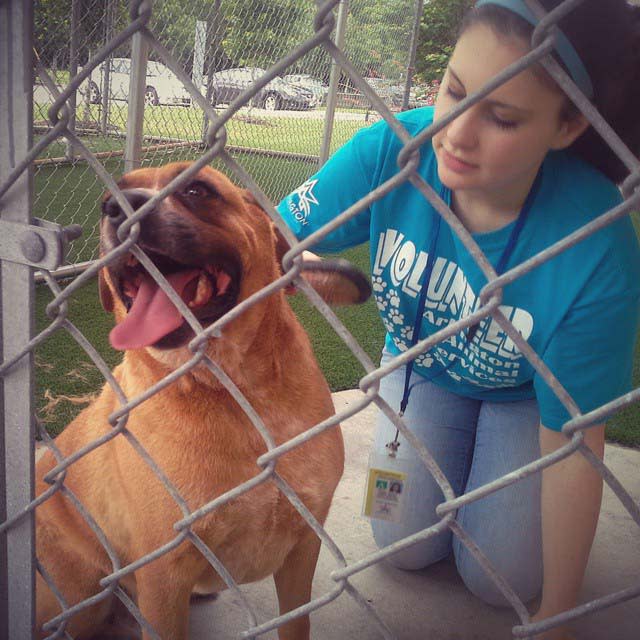 4. Rediscover Your Sense of Purpose
Blue Zones Project uses the slogan "Belong to live long." People with a sense of purpose may enjoy longer, healthier lives. Blue Zones Project has free Power of Purpose workshops scheduled across the community. Maybe you want to make 2017 the year you commit to helping others? There are literally hundreds of opportunities in town. Meals on Wheels of Tarrant County and the Tarrant Area Food Bank can always use help in keeping our neighbors well and fed. If helping animals is your passion, consider volunteering for The Humane Society of North Texas or the City of Fort Worth Animal Care & Control. Whether you have 20 minutes or three days a week to commit, The United Way has fairly comprehensive links to volunteer opportunities all over Tarrant County.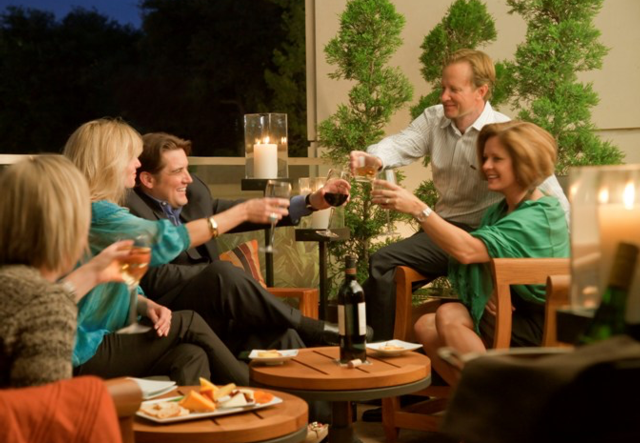 5. Wine at 5PM
If you are able to enjoy adult beverages in moderation, consider having a friend over for wine. Research studies show that moderate consumption of wine – especially red wine with its phytochemicals and antioxidant components – may increase the good (HDL) cholesterol, prevent strokes, and may reduce the chances of developing dementia. Grand Cru Wine Bar & Boutique and Sip Wine Bar are Blue Zones Project-approved locations. Of course, health benefits diminish when you drink too much wine (or any alcoholic beverage).
Our best wishes to you for a happy, healthy New Year!