With neighborhoods like the Stockyards National Historic District and Camp Bowie's brick-lined streets, a trip to Cowtown often involves following the same paths legends once walked. Or skated. Or jumped. Or rode. Where should you venture if you want to go where Fort Worth sports icons triumphed?

Texas Christian University (TCU)
While it has undergone renovations recently, when you attend a football game at Amon G. Carter Stadium, you're still in the same facility where the likes of Sammy Baugh, Davy O'Brien, Bob Lilly, Kenneth Davis and LaDainian Tomlinson made their names. The Encke Heritage Center inside the adjacent John Justin Center houses national championship and individual trophies, along with other historical Horned Frog memorabilia. Frog sports history is on display around the athletic complex, too, with statues of TCU standouts near Ed & Rae Schollmaier Arena and plaques commemorating athletic achievements adorning TCU Lettermen's Plaza beyond the south end zone.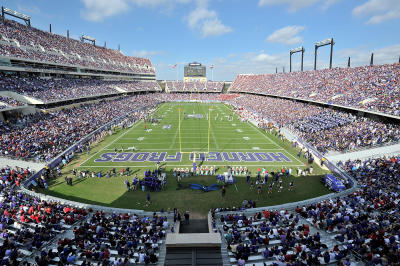 PC: Texas Christian University Athletics Media Department
If you're a tennis player, TCU offers the public the chance to play in the same facility where legendary coach (and former pro tour player) Tut Bartzen and other Frog notables patrolled the hard courts. The Bayard H. Friedman Tennis Center has outdoor and indoor courts available for reservations.
Colonial Country Club
When you attend the Dean & DeLuca Invitational at Colonial Country Club each year, you won't just see the modern era's best golfers. You will traverse the paths stalked by the game's all-time greats. Jack Nicklaus, Tom Watson, Lee Trevino, Arnold Palmer and Sam Snead have all won plaid jackets here, but its best-known title-holder is the Fort Worth-raised man whose statue occupies a central location on the grounds: Ben Hogan.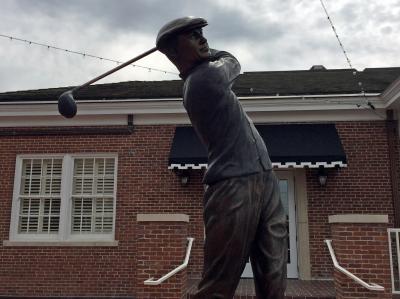 While Glen Garden Country Club, where Hogan and fellow links icon Byron Nelson caddied as youngsters, no longer operates as a golf club, you will soon be able to raise a glass to their memories there. Firestone & Robertson, makers of TX whiskeys, plan to open a distillery on the site of the former club. By the fall, they expect to offer tours and hold private events that include a view of the course and of downtown Fort Worth. Co-owner Troy Robertson said they'll display memorabilia and signage to help visitors understand the venue's historical significance. As a Fort Worth-based company, they hope to add to its legacy.
"We feel like now the story we will be telling about our company and what we're doing in distilling whiskey out there, Glen Garden's history is going to become part of that story," said fellow owner Leonard Firestone.
Cowtown Coliseum 
The above-mentioned Stockyards is replete with historical significance not just for the city, but also for the sport of rodeo. What is now known as the Cowtown Coliseum hosted the world's first indoor rodeo in 1918, as well as what we believe to be the first professional bull riding competition a couple years later. They've immortalized steer wrestling pioneer Bill Pickett with a statue in front of the Coliseum. Appropriately enough, the Texas Rodeo Cowboy Hall of Fame is located inside the historic arena. Between there and the Will Rogers Memorial Center, pretty much every great rodeo competitor of the last hundred years has ridden on the Cowtown dirt.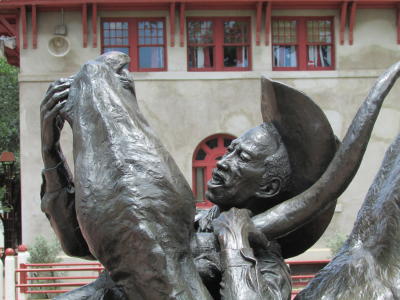 Fort Worth Convention Center (FWCC)
Did you know Fort Worth has two ice hockey championships to its credit? When you visit Will Rogers, you'll follow more than the boot prints of cowboys Jim Shoulders and Fred Whitfield. You will also see the spot where the 1977-78 Fort Worth Texans skated to a Central Hockey League title with a roster that included the likes of future Stanley Cup Champion Bob Lorimer.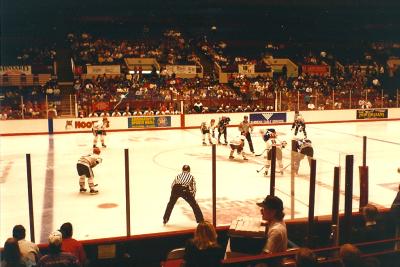 PC: Fort Worth Fire vs. Wichita Thunder

If you're downtown, be sure to amble past the Fort Worth Convention Center. In 1997, the Fort Worth Fire triumphed in that era's version of the CHL.
Other notable athletes that have competed in the FWCC include:
Hockey Hall of Famers Brett Hull and Mike Modano when the Stars played the Blues in a 1993 preseason game
Jamie Benn, Tyler Seguin, and the latter-day Stars when they trained there
Future Dallas Maverick title-winner J.J. Barea, who played with the NBA D-League's Fort Worth Flyers
Nancy Lieberman when the Dallas Diamonds of the old WABA played a game there
Nadia Comaneci during the 1979 World Gymnastics Championships
John McEnroe, Andre Agassi, Pete Sampras, and Jim Courier in the 1992 Davis Cup

American Basketball Association legends like Mel Daniels and Dan Issel visited when the Texas Chaparrals played some home games in Fort Worth during the 1970-71 season. The Chaps later moved to San Antonio, became the Spurs, and joined the NBA in a mid-1970s merger.
LaGrave Field
Fort Worth has a remarkable baseball pedigree, with the Cats having won league titles in three different centuries. The likes of Duke Snider, Sparky Anderson and Maury Wills played for the team, and numerous other giants of the game played exhibitions here. You can still see their names listed on a plaque at LaGrave Field just north of downtown, but the historic ballpark is shuttered for actual baseball games. We can perhaps hope that the Panther Island development will fuel its revival.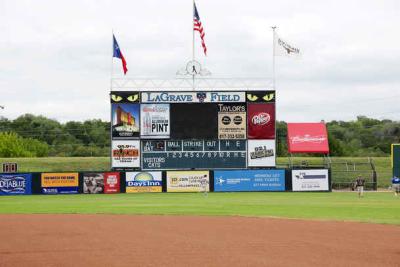 Prior to LaGrave's construction in the 1920s, Fort Worth's teams played in other places near downtown. Panther Park was just across Main Street from the LaGrave site. If you're walking by the corner of El Paso and Pine Street, you're near the location of Haines Park. And the next time you mail a letter at the Main Post Office, you'll be pretty close to the park where the Cats played their games in the late 19th Century (Mark Presswood,  Fort Worth Cats Historian).
Panther Park also hosted a bowl game in 1921, the Fort Worth Classic (Centre College defeated TCU). The Chicago Cardinals (later of St. Louis and Phoenix) played an NFL exhibition game at LaGrave in 1930.
High Schools
Wilkerson-Greines Activity Center (WGAC) has long hosted the Fort Worth School District's indoor court sports, and some special players have passed through its doors. The next time you attend a Fort Worth ISD event at WGAC, remember NBA players like Charles Smith and Oliver Miller who learned to win big games there.

Farrington Field opened in 1939 and served the same role for field sports and track meets. Every great Fort Worth ISD football player has run on, and been tackled or blocked to, its turf. Future NFLers like Byron Chamberlain, Raymond Clayborn and Sherrill Headrick starred as schoolboys here, and this fall, Texas Wesleyan will bring the college game to Farrington.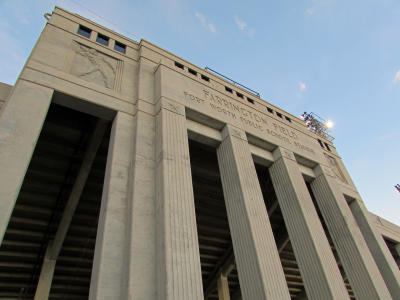 Texas Wesleyan University (TWU)
The author's personal sports heroes while growing up played on the east side. Dr. Ed Olson coached the tennis team at Texas Wesleyan College (as it was then known) and when a shaggy-haired towhead wasn't tagging along on road trips, he could see the players on the Wesleyan courts (and often post-match at the since-departed Mama's Pizza on nearby East Rosedale).
The recently reincarnated TWU tennis team has played in Arlington, but hopes to someday expand the two remaining on-campus courts to be able to host matches there.
Faculty kids spent plenty of time crawling under the bleachers at TWU's Sid Richardson Center, too. Built in 1970, it has hosted National Association of Intercollegiate Athletics (NAIA) champions in table tennis and basketball (including this year), and national runners-up in volleyball. The golf team has won six titles, three of them when Fort Worth hosted the tournament. If you play a round at nearby Meadowbrook Golf Course, you'll be aiming at the same greens where the Rams finished first in 1964 and 1969. They also won the one held at Woodhaven Country Club in 1975.
Not only have the Ram men and women won conference soccer championships at Martin Field, the venue also hosts the Fort Worth Vaqueros professional team, whose developmental program aims to produce future standouts in whose footsteps you may someday want to walk as well.