With "horse motels" nearby, it is no surprise that Fort Worth is the home of the world's oldest continuously running rodeo and one of the oldest livestock shows in the United States.

Growing up in Fort Worth, Stock Show & Rodeo time was always special for my cousins and me. We looked forward to it almost as much as Christmas, but Christmas never had a rodeo, funnel cakes and a midway. Weeks before, we'd gather at my mom's house or maybe at Aunt Opal's to work on that year's cowgirl outfits. These days, it usually means a trip to the western store for rodeo duds for the whole family. The excitement would build as we counted down the days until we could see all those brave young cowboys attempting to stay on bucking bulls or broncs for eight seconds. I remember watching the dirt fly as man and beast exploded from the chute, the crowd cheering. I'd hold my breath until the buzzer sounded and the rodeo clowns ran in to distract some very angry livestock.

Rambunctious rodeo
For 23 days in January and February, this city of Cowboys and Culture pops the chute on that exciting rodeo, as well as on 86 acres full of midway rides, exhibits, livestock pens, carnival food and fine dining. With one of the largest purses on the pro rodeo circuit, the Fort Worth Stock Show & Rodeo draws around 1,200 cowboy competitors to the home of the World's Original Indoor Rodeo. In this laid-back city, visitors are treated like old friends and a 1,344-pound Grand Champion steer is doted on like a new pet. The mayor does her town hall meetings on a bicycle while pedaling the 40 miles of trails along the Trinity River, which winds through town.

But Fort Worth is far removed from the time when it was so quiet, legend claims that a panther could take a snooze on Main Street-they certainly don't roll up the streets at midnight these days.
But they do roll out the red carpet-or in this case, hay and dirt carpet-for competitors and fans.
The fun begins with the big western parade downtown on a Saturday. No motorized vehicles are allowed, and folks bundle up against that raw January weather, bolstered by hot chocolate or a more rough-and-tumble beverage to chase the chill away.

After that, the live action quite literally kicks off with bucking bulls and broncs-cowboys gripping to hold on with all their might. I still hold my breath every time a rider flies over the fence getting away from an angry mount. But that also means I get to watch the rodeo clown bound to the rescue, armed with nothing more than a big barrel to hide in.
In 2013, the rodeo introduced "SCORE IT!" which throws the spectator into the action-don't worry, not like that. It's part of the Stock Show & Rodeo smartphone application, and it allows fans to score rides and guess times during each rodeo event. It was a first for the industry, and rodeo fans can't seem to get enough of it.

The Stock Show is a must-see
Every year, the Stock Show & Rodeo draws a million visitors to Will Rogers Memorial Center in the heart of Fort Worth's Cultural District. About 200 vendors from at least 40 states sell items ranging from saddles and tractors to household goods and Ginsu knives.
About 28,000 head of livestock are exhibited at the Stock Show. There are 15 livestock auctions, and 11,000 4-H and FFA high school students show up with rabbits, barrow pigs, turkeys, goats and steers that they worked hard to raise. Last year's Grand Champion, Bob Marley-a 1,344-pound European Crossbreed steer-fetched $178.90 per pound, equaling $240,000 for the winner's college education. (That would be the 17-year-old girl's education, not the steer's.)
The origins of this event are not all bunnies and broncs, though. Right after the Civil War, Fort Worth became a supply stop for cowboys herding cattle on the Chisholm Trail. After the Texas and Pacific Railway came through in 1876, business people began building stockyards to boost the city's standing in the cattle industry. Local ranchers began showing their stock in 1896, though not at the current venue. In 1917 the cowboys were added, leading to today's mix of stock and rodeo.
Additionally, you can enjoy the rides, games and funnel cakes-a childhood favorite that I've enjoyed well into my adult years. And don't miss the turkey legs and fried Oreos. Walking down the midway at night, it doesn't sound so romantic, but the smells of hay and horses mingling with the aroma of corn dogs and popcorn amid bright lights and carnival music gives me chills, and not just because it's January in North Texas.
It may be advisable to avoid said fried delights before taking on the Mega-Drop, the Tilt-a-Whirl or the 140-foot dive down the longest travelling slide in North America, but you didn't hear it from me.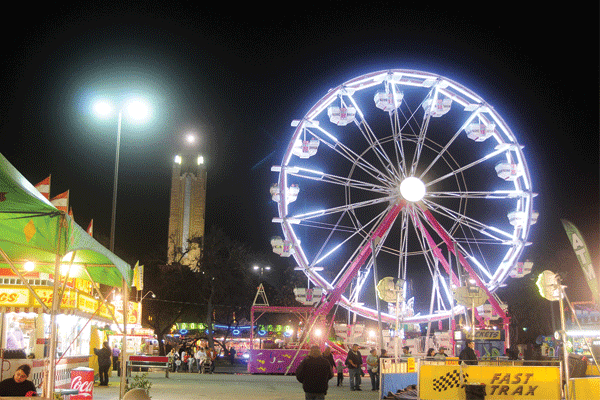 Changes and similarities
With time, my role in preparing for the Stock Show & Rodeo has changed from picking out cowgirl outfits with my cousins, to watching my cousin's children do the same. Ruffles and gingham are still popular options, and my niece loves my old cowgirl boots.
When the cowboys and their bucking bulls erupt from behind the gate, my eyes dart between them and my young family members-too bewitched by the scene ahead to notice me smiling at their open-mouthed gaze. I hope they will remember the Stock Show & Rodeo as fondly as I do.

Get a free visitor guide and start planning to giddy-up over to Fort Worth.