Ginny Mac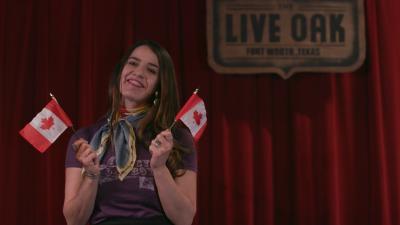 Profession: Musical artist - singer/songwriter/musician 
Years Lived in Fort Worth: Born and raised!
Favorite attraction to take visitors in Fort Worth: We have beautiful museums and a vibrant cultural district, so I usually love to take people there. But I also love to take them two-stepping in the Stockyards :) And the Fairmount area night life is fun and laid back. Oh my, I can never pick just one haha.
Favorite restaurant in Fort Worth: 'Bella Italia West' on Camp Bowie!!! Hands down. 
Favorite place to listen to music: Live Oak Theater
Favorite memory from a trip to Canada: I performed at the Kamloops Cowboy Gathering in Kamloops, B.C. My dad came with me on the trip, and we had quite an adventure! We flew into Vancouver and a nice couple who was involved with the festival picked us up from the airport and we rode up with them in their car. We were there in the middle of a blizzard! While the drive was slow and steady, the views were breathtaking, the conversation fun and stimulating, and at one point we stopped at a cafe to take a break and warm up with hot soup. We all got there in one piece thanks to some expert driving by a born and raised Canadian :) I played the festival and was warmly greeted. I remember the cold being a very dry cold - unlike the "wet" cold we get here in Texas - so even -9 degrees at one point didn't feel like it was that cold to me! It was a wonderful trip and for a teenager, very exciting to travel out of the country for the first time as a professional musician :)
Why should Canadians visit Fort Worth? We are a warm, friendly city and Fort Worth that knows who the heck it is :) So I think we would love the opportunity for cultural exchange. Also, Fort Worth should have a Canadian sister city! :)