CONFERENCE DIRECT ITINERARY
April 23-24, 2015
Thursday, April 23, 2015
Friday, April 24, 2015
7:00-9:00 AM Enjoy breakfast at your leisure in the restaurant (hotels to provide vouchers) 
9:30 - 10:30 AM Transfers to Anatole or airport to pick up vehicles
Departure notices provided with your check-in packet. Transfers provided by ACCESS Texas.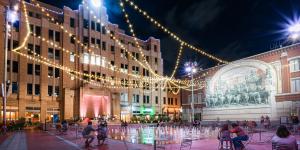 Sundance Square Plaza
Discover the incredible event and gathering space in the heart of downtown Fort Worth, the Sundance Square Plaza.
Please click here to RSVP
Select your 1st and 2nd choice of preferred hotels. Room assignments will be made based on the order they are received. Your hotel assignment will be included in our final communication with other helpful Fort Worth information to be sent in April. Cut-off for reservations is March 20, 2015.
 
Questions? Contact Paola Bowman at MeetinFW@FortWorth.com or by calling 817.698.7829.