● Support local black-owned-and-operated businesses, events and artists. You can find many listed on our website Discover Diverse Fort Worth. 
● Make your voice heard. Share your input to Visit Fort Worth at communityinput@fortworth.com.
● Ensure all Fort Worth residents are counted by taking and promoting the U.S. Census. Every year, billions of dollars in federal funding go to hospitals, fire departments, schools, roads, and other resources based on census data. 
● Sign the petition to make Juneteenth a national holiday, recognizing June 19 as a commemoration of the end of slavery. 
● Watch films that advance conversations about race. The Grand Berry Theater has curated a list. The Theater takes its name from combining those of two former Fort Worth movie houses, one for African Americans and one for whites. Beginning June 19th, the Grand Berry Theater will be screening the feature film Miss Juneteenth, which was filmed entirely in Fort Worth.  This is the only re-occurring theatrical screening in Fort Worth
● United Way Tarrant County has posted a list of books, podcasts and other resources to further our understanding of race and racism. 
Here is our statement: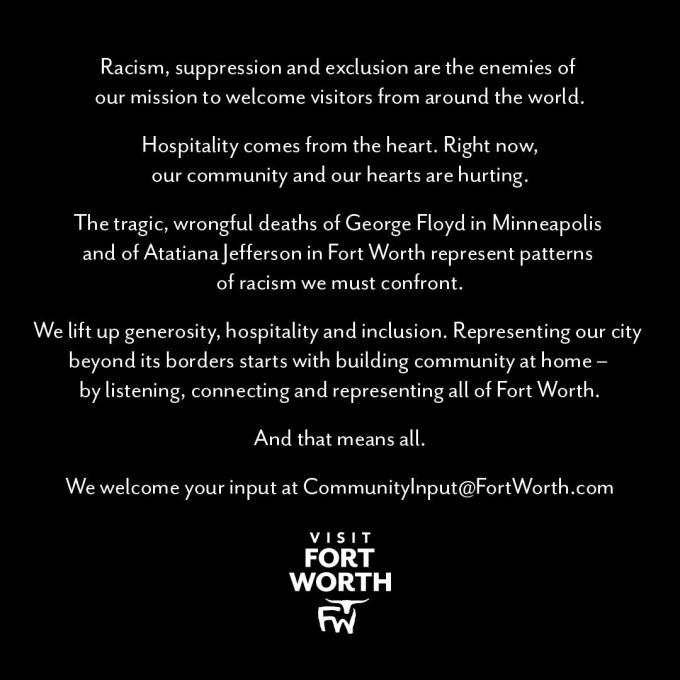 Support Black-Owned Businesses