SPECIAL APPEARANCES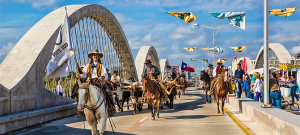 As official ambassadors of the city of Fort Worth, the Fort Worth Herd is available for special event bookings. For more information, please contact 817-336-HERD or email TheHerd@FortWorth.com.
*Because this appearance requires livestock, the Fort Worth Herd requires a certificate of insurance for commercial general liability, which provides bodily injury and property damage coverage at limits not less than $1,000,000 combined single limit per occurrence. The city of Fort Worth, the official support group; the Outriders of the Fort Worth Herd, and the Fort Worth Convention and Visitors Bureau shall be named as additional insured on the certificate, listing the date(s) and location of the event. The Fort Worth Herd office must receive the insurance certificate at least three (3) business days prior to the event.
*Please note that our steers and horses are not tame and are only available to be on static display in a penned area.