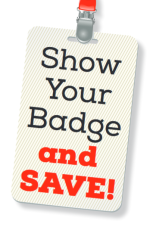 Whether you are in the searching for a souvenir or your sweet tooth is calling for chocolate? Enjoy discounted and free options at establishments participating in the Worth Savings Show Your Badge Discount Program. Enjoy free or discounted appetizers, meals, desserts and Fort Worth gifts just by showing your conference badge.
How does it work? Simply show your badge and save!
Discounts are available to any group issuing an identification badge that includes the attendee's name and name of the conference. 
Simply present an official conference badge, either upon entering or when ordering.
Receive the respective discounts offered by participating restaurants and retailers. 
Click Here for Participating Fort Worth Establishments.
For more information, contact our Convention Services Team.