What We Do:
Winning Events
Secure High Profile Sporting Events
The Fort Worth Sports Commission is dedicated to bringing signature events to the community that enhance the image of Fort Worth while showcasing our great assets and driving positive economic impact. We will do whatever it takes to elevate our city above the competition.
• Manage extensive bidding processes
• Collaborate with community partners
• Coordinate venues and hotels
• Secure support from public officials
• Engage community
• Incorporate incentive packages
Event Management
Creating the Championship Experience
When it comes to sporting events, securing them is half the battle. Delivering the "Championship Experience" again and again is where communities committed to hosting premiere events stand out. FWSC specializes in all aspects, including:
• Marketing plan creation and execution
• Volunteer recruitment and management
• Ticket sales and promotions
• Creating and running special events
• Coordinating local, regional and national media
Our team is dedicated to providing an experience that athletes, coaches, parents and fans will never forget!
Build the Fort Worth Brand
Sports provides a platform like nothing else
From March – June in 2020, sporting events in Fort Worth will be televised live on ESPN, NBC and ABC! What a phenomenal opportunity for us to tell the Fort Worth story to a national and potentially international audience. In addition to the millions of people that get exposed to Fort Worth via broadcast television, we are also welcoming hundreds of thousands of visitors to Fort Worth to see first-hand all the City has to offer. Last but not least, with each successful event, we build upon our reputation with the National Governing Bodies that decide where these high profile events go. As you can see, sports provides an unparalleled opportunity to tell the Fort Worth story!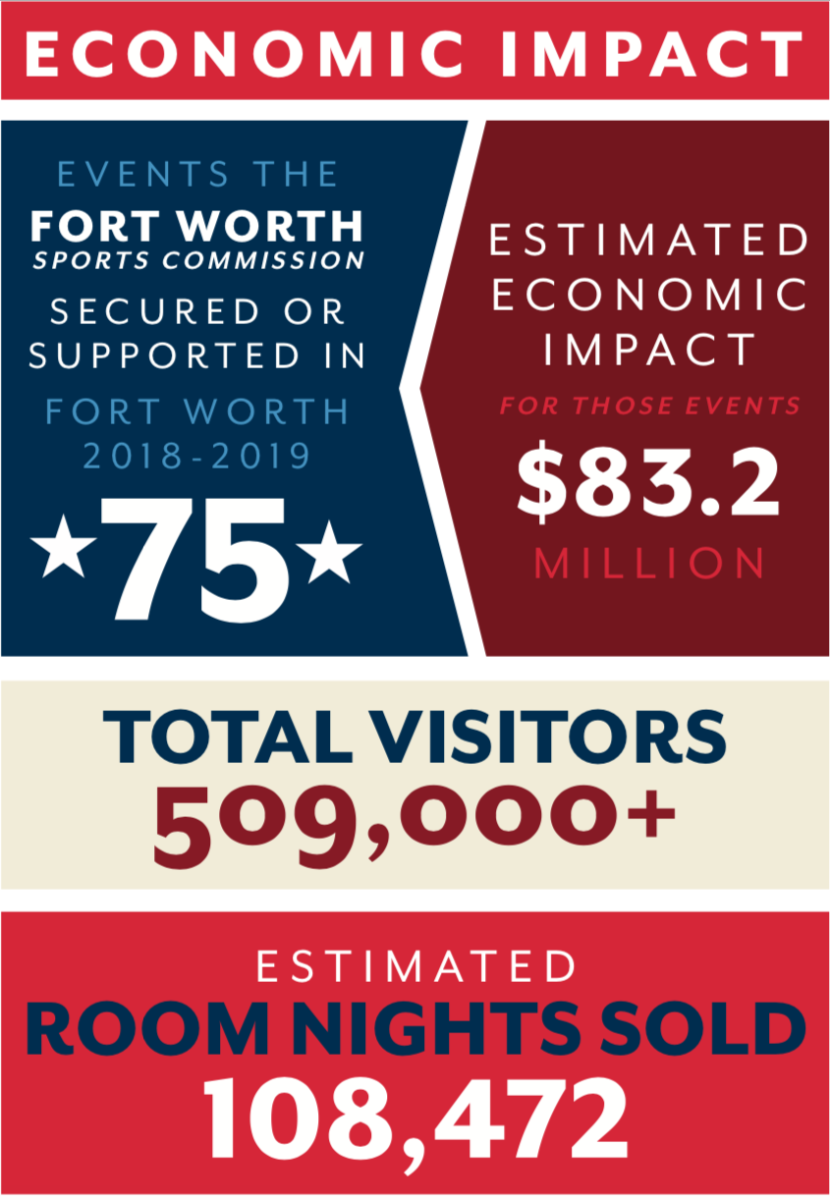 * Numbers generated from the Destination International Sports Economic Impact Calculator which is a tool utilized by more than 200 destinations world-wide and endorsed by Sports Events & Tourism Association