Visit Fort Worth is the 501c(6) marketing organization for the city's hospitality industry. We share the Fort Worth welcome with all to enhance Fort Worth's image, economy and quality of life through business and leisure tourism. 
The hospitality industry generates tax revenue for the city, creates jobs and supports local businesses. 
Departments: 
Marketing to raise awareness of the city as a great travel destination for business, fun and events. 
Meeting Sales and Convention Services to secure business events and provide an outstanding experience. 
Sports Commission to secure high-profile events that deliver economic impact and exciting action. 
Fort Worth Herd, operating the world's only twice-daily cattle drive, supported by Friends of the Fort Worth Herd. 
Fort Worth Film Commission to support media production, jobs and local business. 
Hear Fort Worth to support jobs and creativity in the music industry. 
Finance and Administration to ensure accountability and management of the organization's funds. 
Visit Fort Worth is also the administrator for the Tourism Public Improvement District, which raises additional funds for driving hospitality business in the city. 
 
Visit Fort Worth 
111 W. 4th Street, Suite 200
Fort Worth, TX 76102-3951
800.433.5747

Follow us on Facebook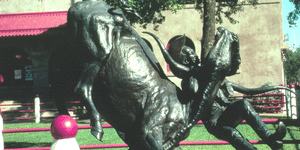 Fort Worth History
Settled in 1849 as an army outpost, Fort Worth was one of eight forts assigned to protect from Indian attacks