ABOUT THE HERD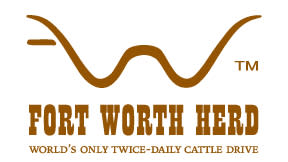 The Fort Worth Herd was created as part of the city's sesquicentennial celebration. A herd of 17 Texas Longhorns, each steer representing one decade from Fort Worth's colorful past, and a diverse team of drovers clad in authentic 19th century clothing were acquired to create the Fort Worth Herd.
On June 12, 1999, in front of 15,000 spectators, the Fort Worth Herd made its first cattle drive to the Fort Worth Stockyards National Historic District.
HERD FAQS
What time is the cattle drive?
Every day at 11:30 a.m. and 4 p.m. on East Exchange Avenue in the Stockyards. No charge to attend and you can view the procession from the sidewalk.
How big are the Fort Worth Herd steers?
A mature longhorn steer can weigh 1,400 to 2,500 pounds. Their signature horns can measure six to ten feet, tip-to-tip.
Are longhorns aggressive?
The Texas Longhorn of today is a docile, friendly breed, but it still has strong survival instincts. When they are used to humans, they can be handled easily and even taught to respond to voice commands. Remember they are animals and can behave in unpredictable manners. 
Where do the steers in the Herd come from?
Fort Worth Herd steers are graciously donated by ranchers who support our program and share their love for these animals and the western way of life with others. The photo steers on the sidewalk do not belong to the Herd program.
Can I ride a horse in the cattle drive? What if I am an experienced rider?
For the safety of our visitors and our team, only Fort Worth Herd staff are permitted to ride in the twice-daily cattle drive. Even the most experienced riders do not have the training which goes into operating this unique cultural attraction. 
Can I drive my vehicle, such as a car or covered wagon, behind the cattle drive?
No, the cattle drive operates twice daily with precision to ensure the safety of our guests. We do not allow unfamiliar elements that can disrupt the routine of our majestic longhorn cattle.
Can I ride a horse with the cattle? What if I am an experienced rider? 
Thank you for your interest in the Herd program. For the safety of our visitors and our team, policy and procedure permit only Fort Worth Herd staff to ride in the twice-daily cattle drive and handle our horses and longhorns. Thank you for appreciating the technical aspects of operating this unique cultural attraction. We invite you to visit the Stockyards at your convenience.
Does the Fort Worth Herd make special appearances?
Yes. To request an appearance by The Herd or our drovers, contact Trail Boss Kristin Jaworski at kristinjaworski@fortworth.com or Mitch Whitten at mitchwhitten@fortworth.com.
I love the Fort Worth Herd! How can I support this important western tradition and help make sure this beautiful tradition continues?  
Follow the Fort Worth Herd on Twitter, Social @fortworthherd and text THEHERD to 41444 to give donations in support/appreciation for the cattle drive or visit
http://igfn.us/f/2mn3/n. Visit https://www.fortworth.com/the-herd/ to learn more.
For Event Planners
Are parades or processions allowed to follow the twice-daily cattle drives at a distance?
In very rare circumstances, a procession may follow the cattle drive but only after the longhorns are secure in their holding area.
Are fireworks allowed near the Herd?
No, fireworks and other loud, intermittent noises are harmful to the horses and cattle of the. Fort Worth Herd, as well as other livestock in the Stockyards. Horses in particular take flight when scared and can collide with fences, buildings, and  harmful objects as they flee. Fireworks have been found to cause horses to run and receive injuries such as lacerations, sprains and broken limbs.