STOCKYARDS NATIONAL HISTORIC DISTRICT
Once home to cowboys, cattlemen and outlaws, today the Stockyards National Historic District is one of the most popular attractions in Texas. Day and night, visitors come to the Stockyards to get a taste of the true American West. Begin your journey on Exchange Avenue, where the weathered brick streets are lined with historic buildings, restaurants, shops, saloons and other attractions.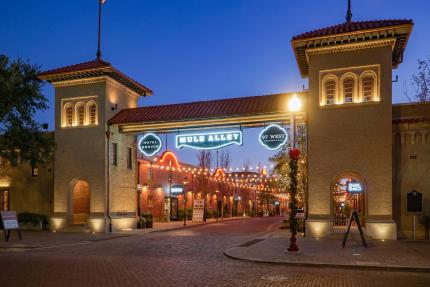 Mule Alley is a carefully curated collection of restaurants, entertainment venues, shops, heritage brands, and creative workplaces located in the historic Fort Worth Stockyards. As part of one of the most iconic travel destinations in the country, the new Mule Alley project transcends typical development and brings an area in the district that was once vibrant back to life. After six years of planning, Stockyards Heritage Development Co. set out to revive the 108-year-old original horse and mule barns into an iconic destination shopping and dining district. Mule Alley is anchored by Hotel Drover, a Marriott Autograph Collection resort, and features legacy stores and restaurants including Shake Shack, Lucchese Bootmaker, Provender Hall, MB Mercantile, Cowtown Winery, Biscuit Bar, Wrangler, King Ranch Saddle Shop, and Proper Supply Co. The district is set to welcome additional tenants in the upcoming months, including Second Rodeo Brewing, AVOCA Coffee, two concepts from Chef Tim Love, and more.