SINGLE-DAY PASSES FOR INAUGURAL FORT WORTH MUSIC FESTIVAL & CONFERENCE AT THE STOCKYARDS ON MARCH 2-4
NOW AVAILABLE
DAILY LINEUP REVEALED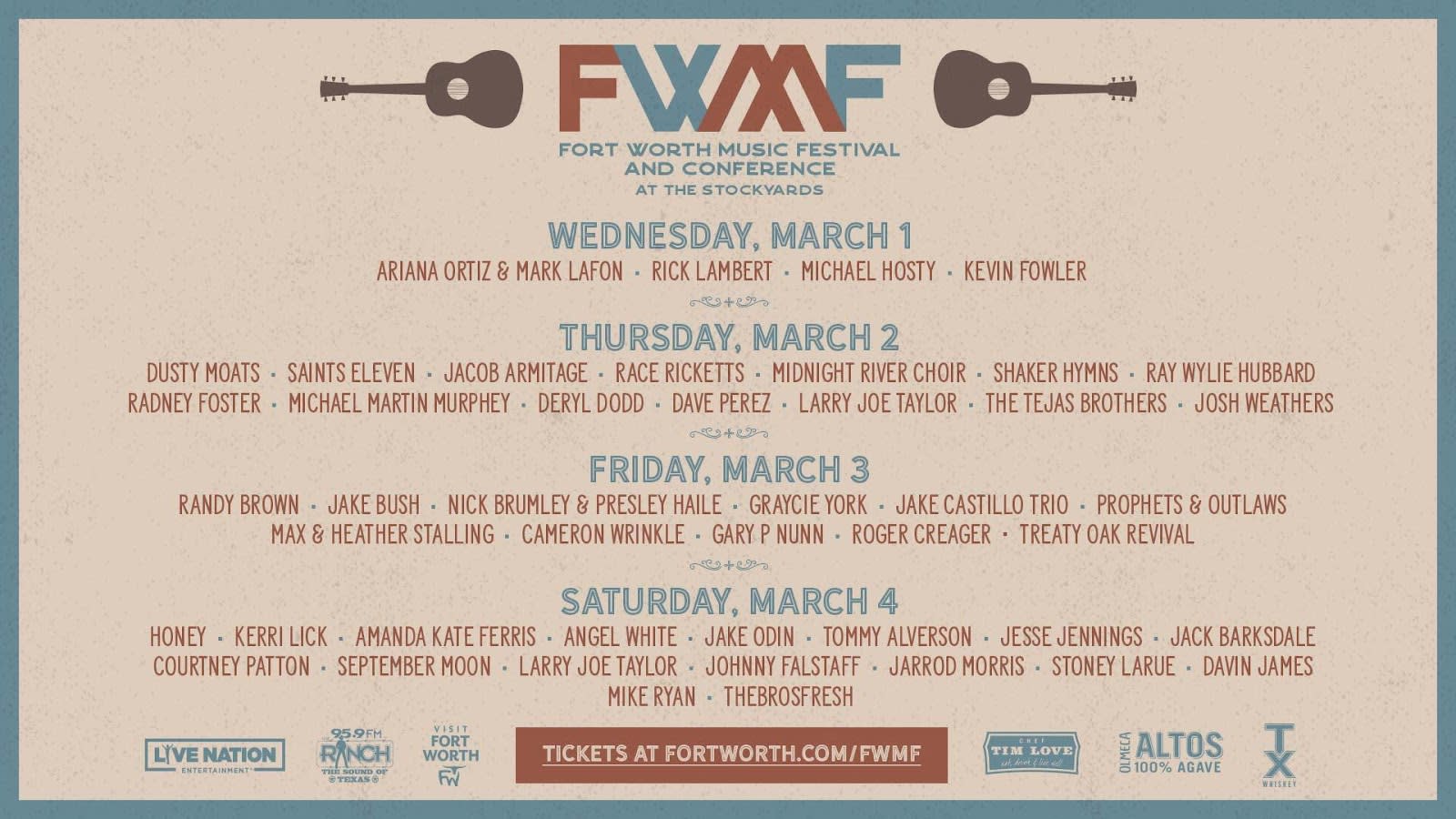 For approved Festival & Conference art and hi-res images, please download HERE.
 
Single-day passes for the upcoming Fort Worth Music Festival & Conference at the Stockyards, a new music networking conference for aspiring agents, managers, promoters, and emerging local Texas-based artists on March 2-4, are now on sale HERE. Single-day tickets include general admission to shows on that specific day only and do not include panel discussions.
The Fort Worth Music Festival & Conference at the Stockyards will take place across multiple venues at the Stockyards in Fort Worth, TX, featuring panel discussions and keynote speakers with well-established and highly respected live music industry executives, networking opportunities, workshops, and live performances. Full conference passes which include access to all panel discussions, workshops and the live performances are available now at Ticketmaster.com 
Organizers today revealed the daily live performance lineup:
Thursday, March 2
Dusty Moats, Saints Eleven, Jacob Armitage, Race Ricketts, Midnight River Choir, Shaker Hymns, Tejas Brothers, Josh Weathers, and a Texas Independence Day Jam with Ray Wylie Hubbard, Radney Foster, Michael Martin Murphey, Deryl Dodd, Dave Perez & Larry Joe Taylor.
Friday, March 3
Randy Brown, Jake Bush, Nick Brumley & Presley Hailie, Graycie York, Jake Castillo Trio, Prophets & Outlaws, Max & Heather Stalling, Cameron Wrinkle, Gary P. Nunn, Roger Creager, and Treaty Oak Revival.
Saturday, March 4
Honey, Kerri Lick, Amanda Kate Ferris, Angel White, Jake Odin, Tommy Alverson, Jesse Jennings, Jack Barksdale, Courtney Patton, September Moon, Larry Joe Taylor, Johnny Falstaff, Jarrod Morris, Stoney LaRue, Davin James, Mike Ryan, and THEBROSFRESH.
Full festival schedule, including performances, conference panelists, topics, and workshops, with event times and venues is available HERE. The schedule is subject to change.
Produced by Live Nation, in partnership with Chef Tim Love and Larry Joe Taylor, the Fort Worth Music Festival & Conference at the Stockyards aims to generate awareness surrounding the Texas music scene while working to build an infrastructure where artists can establish and grow their career in Texas and beyond. The conference will unite music enthusiasts and provide rising artists with an overview on how to enter and establish themselves within the live music industry, while also serving as a showcase for up-and-coming Texas-based talent. 
The conference will extend across several venues in the Stockyards, including Tannahill's Tavern & Music Hall, Tannahill's Tavern Lounge, White Elephant, Atico Restaurant and Lounge, Love Shack, The Barn at Hotel Drover, and newly added Billy Bob's.
Confirmed conference panelists include: 
Keynote Speaker: Rick Lambert – Miranda Lambert Management
Josh Abbott - Entertainer
Radney Foster - Entertainer
Quinn Donahue - C3 Presents
Larry Joe Taylor - Entertainer
Brendon Anthony - Texas Music Office
Eddie Kloesel – WHY&HOW Management
Henry Glascock - WME
Chef Tim Love
Martha Taylor – Promoter, Larry Joe Taylor Music Festival
Dave Perez – Entertainer
Ray Johnston – Entertainer
Conference panel topics include:
State of the Texas Music Industry
Songwriter Q&A
Booking / Management: Insight for Artist & Promoter
The Art of Co-Writing
Event Food, Beverage & Hospitality
Music Distribution & Publishing
Concert Marketing & Promotion
The Promoter, Artist, Agent and Manager Relationship
More information: https://www.fortworth.com/fwmf/ 
About Live Nation Entertainment
Live Nation Entertainment (NYSE: LYV) is the world's leading live entertainment company comprised of global market leaders: Ticketmaster, Live Nation Concerts, and Live Nation Sponsorship. For additional information, visit www.livenationentertainment.com.
About Tim Love 
Texas chef Tim Love is known as much for his vibrant personality as his signature urban western cuisine. Love is the chef and owner of Love Management, Inc., which includes Lonesome Dove Western Bistro (Fort Worth, Austin, Knoxville), Woodshed Smokehouse (Fort Worth), Love Shack (Fort Worth, DFW Airport, Knoxville, and Houston), Queenie's Steakhouse (Denton, TX), White Elephant Saloon (Fort Worth), Gemelle (Fort Worth), Atico (Fort Worth), Paloma Suerte (Fort Worth), Hotel Otto (Fort Worth), Catarina's (Fort Worth) and Tannahill's Tavern & Music Hall (Fort Worth). The later is in partnership with Live Nation, the world's leading live entertainment provider.
Through Love Management, Inc., Love's influence extends beyond the restaurant industry with a growing entrepreneurial footprint in both the event and entertainment spheres including a strategic alignment with music festivals like Lollapalooza and Bonnaroo, as well as holding the title of official chef for Austin City Limits and co-founder of Austin Food & Wine. Love will also debut Woodshed Smokehouse outlets at select Live Nation venues, including the Dos Equis Pavilion in Dallas, TX. For more information about Tim Love, please visit www.cheftimlove.com and check out @cheftimlove on Instagram.
About Larry Joe Taylor
Larry Joe Taylor is an avid songwriter, rancher, and festival producer. He began his festival career in 1989 by hosting a small gathering in the small town of Mingus, west of Fort Worth where he and some of his songwriting friends to perform their tunes and hopefully draw a few fans. The idea was to provide a music friendly environment in which both the artists and fans felt welcome and on common ground. Today, Taylor and his family produce the largest independently-owned outdoor 6-day music festival in Texas, known as the Larry Joe Taylor Texas Music Festival, and often referred to as "LJT". Not only does the Taylor family host multiple live music events year-round on the 380 acre "Melody Mountain Ranch" in Stephenville, Texas, Larry and his crew have produced and co-produced off-site live music events at other venues such as "Pickin' at Possum" at The Lush (Possum Kingdom Lake), "Hot Chili Days Cool Mountain Nights" in Red River, NM, "Island Time" in Isla Mujeres, MX, "Coastin and Cruisin" Songwriter's Cruise, and many others. For all information on Larry Joe Taylor, his music and schedule, and his events, visit www.larryjoetaylor.com
For press inquiries, please visit: https://www.fortworth.com/fwmf/media-requests/