Fort Worth may be Cowtown, but with all the great taco joints around, we could easily wrestle the title of Taco Capital of the state from Austin (or anywhere). If you're looking for breakfast tacos, you'll find that there are so many tacos and so little time. Here are 10 of our favorites. 

1. El Mil Tacos (4117 Hemphill St) has been serving tacos at all hours of the day or night for 22 years, and you get the interesting meats here –– lengua and buche, along with guisado, pastor and carne asada. The restaurant moved from a funky, almost-falling-down building to better quarters up the street a couple of years ago. But you can have your breakfast tacos either at breakfast time or at 3 a.m. – on weekends, the place is open until 4 a.m.
2. Juanito's Taqueria (4150 Hemphill St) offers a selection of five specific breakfast tacos, served mix and match on a plate with rice and beans. Offerings include chorizo, ham or machacada tacos with shredded beef. The regular taco menu boasts barbacoa, brisket and adobada – beef in a spicy red sauce. Individual tacos are priced under $2 apiece, and two are plenty for breakfast.
3. Diners used to have to chase the Salsa Limon food truck through town if they wanted the goods, but now there are four locations across Fort Worth (with a fifth coming soon). Breakfast tacos include an egg and your choice of chorizo, bacon, potato, bean and cheese, steak, barbacoa, chicken or pastor.
4. Surprisingly, Pearl Snap Kolaches (4006 White Settlement Rd) has two kinds of breakfast tacos on their "Not Kolaches" menu –– potato, egg and cheese or chorizo, egg and cheese.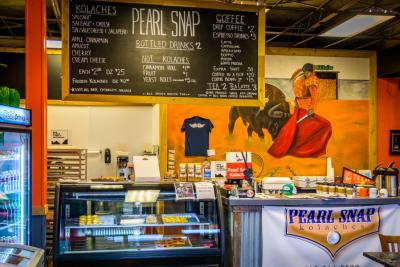 PC: Pearl Snap Kolaches by @Cocktails_in_Cowtown
 
5. Long before breakfast tacos became a thing (like, 25 years or so), Taco Cabana offered a selection of inexpensive tacos wrapped in house-made flour tortillas. Even now, you can't beat the value –– and the taste of a bean and cheese taco on a fresh warm tortilla is amazing.
6. Another food truck success that became a brick-and-mortar restaurant, Taco Heads (1812 Montgomery St), offers breakfast tacos all day long! The veggie tacos might make you swear off meat –– at least in the moment you're eating them. Fancy extras include fresh pineapple dappled with a chile-lime salt.
7. Taqueria Melis (4304 W. Vickery Blvd) was one of the first taco stands in Fort Worth. The restaurant is cash only and mostly for to-go orders, although the small building on Vickery Boulevard offers a couple of picnic benches for diners to consume their comestibles. Melis remains one of the few places you can get a breakfast jamon (ham) and egg taco, should you be tired of pastor or carnitas. On weekends, you can get menudo by the pound.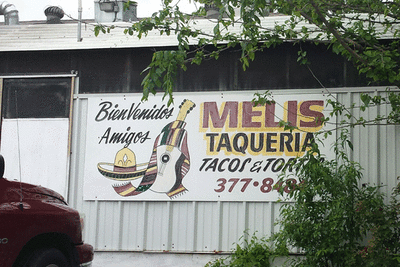 8. Tina's Cocina co-owner Juan Solis uses the recipes from mama Faustina's taco stand in San Felipe, Mexico. For breakfast, most of the taco options are assemble yourself (eggs and your choice of meat served with a side of corn tortillas, beans and potatoes). Tina's also features 11 breakfast burritos if you prefer your Mexican food in a six-inch flour tortilla.
9. Torchy's Tacos (928 Northton St) At this Austin-based chain, you can order tacos by name (the Wrangler, the Ranch Hand) or by number (breakfast tacos #1 through #6). Come here if you want non-traditional combinations like spinach, egg and bacon or eggs and your choice of meat topped with tomatillo salsa. Skip the flour tortillas in favor of the delicious, thick corn tortillas.
10. It's hard to miss Taqueria Tepito (1104 Miller Ave) – it's a small purple building on Miller Ave. The menu at the decade-old Tepito's is full of inexpensive street tacos –– thick corn tortillas filled with lengua, carne asada, chicarrones or tripas, sold individually or in a plate with rice and beans for under $7. Your breakfast will start a little late here –– Tepito opens at 10 a.m.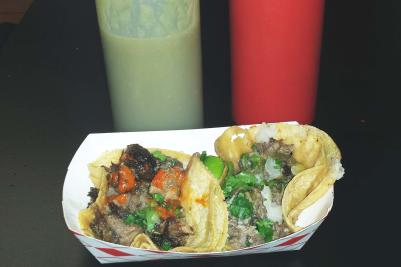 ​PC: Taqueria Tepito lengua and brisket tacos with the devilish red and green sauces.


Main image: @FarrarFoodPhotography