Cumbia is party music. With its instantly recognizable rhythm, plethora of instruments and blend of cultural influences, it's no wonder that the cumbia is loved across Latin America.  Originating in Colombia in the 17th century, this blend of indigenous and African music and dance achieved massive popularity in the 50s and 60s, finding success in Mexico, Chile, Argentina, El Salvador, Peru and Venezuela (among other countries), each adding their own regional twist.

Cumbia Revolution
Cumbia remains relevant today and continues to adapt to the time and culture it finds itself in. I met up with DJ E-Roc to learn more about a different aspect of the cumbia scene in Fort Worth. E-Roc remembers DJing during the booming rave scene of the 90s. Electronic dance music and European electronic music was hitting the U.S. around this time, and the heavy base lines caught the attention of DJs like E-Roc.
It was out of this music that electrocumbia was born: synthesized, engineered versions of the classic cumbia instruments, with a heavier base line. And, the music continues to evolve and change every day. The lyrics and familiar songs catch people's attention, and the hypnotic cumbia beat keeps them dancing all night.
"You draw a lot of energy from the crowd," says E-Roc. "When the people are having a good time, the DJ is having a good time." Apart from electrocumbia, E-Roc is known for deep house and moombahton a blend of house, cumbia and/or reggaeton.
And don't forget about crunk cumbia. Perhaps the best example of this comes from Dallas-based producer, DJ, and 'crunk cumbia king' Erick Jaimez. Mixing cumbia with hip-hop and trap, Jaimez has flipped everything from Drake and Travis Scott to J Balvin and Maluma.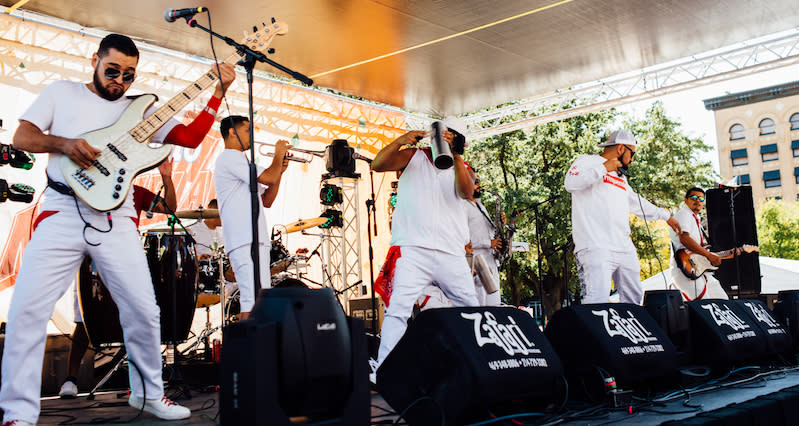 ---
Cumbia in Fort Worth
"When you come to one of our shows, get ready because it's going to be a party," says musician Javier Diaz Jr. of cumbia band La Freqüenzia.
The band has been together for less than a year, but their 15+ years of friendship really shines through when the nine-member band of Fort Worth natives performs.
"We know each other from high school," says Diaz. "The thing that brought us close together was music."
Their use of saxophone and trumpets together (something not often seen in cumbia bands, especially in the DFW) has become something of their signature sound, and their on-stage energy is contagious. Watching them perform is guaranteed to put you in a good mood, and I dare you not to dance along with them. Although a cumbia band, they are multitalented across genres, playing rock, country and Tejano. The time and effort put into making sure everyone in the audience is having a good time really makes them a crowd pleaser.
"We are blessed with the team that we have. These guys take pride in their craft, and that's all you can really ask for."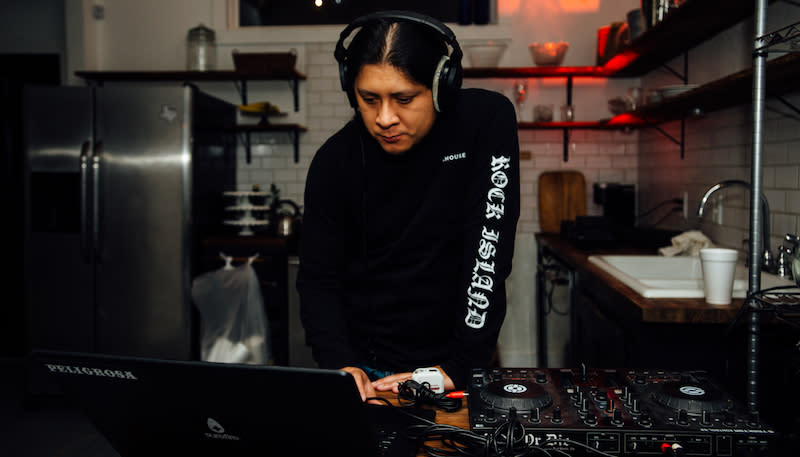 ---
Where to Listen | Who to Follow:
Whatever your preference, the classic cumbias, the 90's technocumbias, or the newest wave of crunk cumbias, here are some people and places to follow to get you dancing in Fort Worth.
DJ E-Roc with his mix Cumbiaflex. Ronnie Heart with his Noche Latina live set. The Fort Worth Blackhouse regularly hosts events that feature DJs playing both cumbia classics and crunk cumbias, like Fort Worth natives Soy_Capaz and E-Roc, as well as Dallas acts Erick Jaimez and Boom Boom Pum!
La Freqüenzia with their newest music video (see if you can guess where they filmed it, look for the mural in the background).