Fort Worth has a history of producing world-class jazz musicians. Now, a new crop of jazzbos and torch singers continues to build on the legacy of T Bone Burnett, Dewey Redman, Ronald Shannon Jackson and Ornette Coleman, among others.

For a first-hand perspective on our fair city's relationship with the improvised art form, I chatted with local composer and big band director Rick Stitzel. He was wrapping up a rehearsal, trumpet in hand, at Tarrant County College South Campus when I stopped by. After earning a master's degree in jazz studies from UNT, Stitzel settled in Fort Worth in the early 1980s where he has taught, composed and performed ever since.

PC: @robertelmorephotography

Any city's jazz scene is tied to its venues. Clubs like the Village Vanguard and Blue Moon have taken on an almost mythical stature within jazz lore, for example. For Fort Worth, the Caravan of Dreams (1983-2001) was that iconic space.
"Caravan of Dreams was a magical time period," Stitzel recalled. "The beauty of Caravan of Dreams was that they brought in world-famous musicians. I saw Freddie Hubbard, Chick Corea, Phil Woods and Michael Franks. It was unusual to have a [world-famous jazz] club in a place called Cowtown. Jazz musicians were even talking about it in Europe."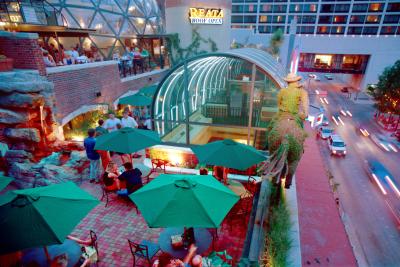 The venue, which occupied what is now Reata Restaurant, was "just the right size" and had a beautiful sound system, Stitzel said.
Sardines Ristorante Italiano, which closed in 2011, had a 28-year run as the musical home of pianist Johnny Case. The legendary keyboardist still performs at Lili's Bistro on Magnolia most Saturdays. I remember hearing Case when I first moved to Fort Worth in 2005. He often played in a trio, and guest musicians were a regular feature of his evening performances.

PC: @josephhaubert
 
J&J Blues Bar and Key Lounge (now Tin Panther) infused traditional and Texas blues into the music scene for decades. Montgomery Street stalwart Jazz Cafe continues to be a refuge for those who need their brunch and jazz fix to be in one spot.
Finding a music venue with the right acoustic qualities and space can be an issue, Stitzel said. Today, Lili's Bistro on Magnolia, Scat Jazz Lounge, Shipping and Receiving, Buttons Restaurant and Twilite Lounge are solid options for catching live jazz.

PC: @katieckelly
 
Pianist Daymond Callahan, saxophonist Jeff Dazey, bassist Aden Brubeck and multi-instrumentalist Tatiana Mayfield are all phenomenal, active jazz musicians who call Fort Worth home. (They've also all studied with Stizel at one point). One sign of hope for jazz's future is the quality of jazz education in the United States, Stitzel said. High schools, community colleges and universities across the country now have jazz bands, and groups like the Jazz Education Network have standardized jazz pedagogy.
"Because of that," Stitzel said, "we're putting more people into the world who appreciate jazz. I think [the art form] is in good hands."