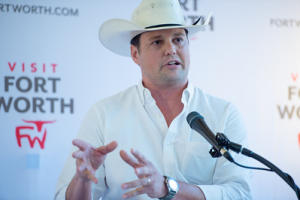 FOR IMMEDIATE RELEASE
Jessica Christopherson, AVP Marketing
817-709-7601 or jessicachristopherson@fortworth.com
Sarah Covington Asst. Director of PR
817-730-5022 or sarahcovington@fortworth.com
Visit Fort Worth Announces Initiatives to Market Local Music
Studio Sessions with Niles City Sound will Focus on New Artists
FORT WORTH, Texas – Oct. 3, 2018 – It's a big day for film and music artists who help bring visitors to the city. Visit Fort Worth and its affiliate Hear Fort Worth announce several initiatives, including travel grants and a recording opportunity with nationally-recognized studio Niles City Sound, to help local musicians develop their talent and reach more people.Visit Fort Worth also celebrated the third anniversary of the Fort Worth Film Commission, which has assisted hundreds of local film projects and supported several nationally noted films.
In music, four new programs will help spotlight emerging talent:
A new program called Studio Sessions, in partnership with Niles City Sound, will select four emerging artists to develop and produce a record single. Niles City will announce the artists at the Visit Fort Worth annual meeting on February 6, 2019.
To help artists beginning to tour, Hear Fort Worth will offer travel grants of up to $500 each. Applications can be made November 1, 2018 through September 30, 2019, at HearFortWorth.com while funds last.
A new Artist Showcase will feature a different musician each month on social media channels and online by Hear Fort Worth and Visit Fort Worth.
Hear Fort Worth will reimburse musicians who apply to play a showcase at SXSW 2019. This is made possible by a generous grant from 95.9 The Ranch.
"Music is a magnet for visitors," said Bob Jameson, president and CEO of Visit Fort Worth. "We want to ensure that Fort Worth artists have the opportunity to develop and make our local scene even richer."
In 2017 Fort Worth was named the first music-friendly city in Texas by the Office of the Governor. The program recognizes cities working to support the music industry and promote its economic impact
"We applaud Fort Worth for its innovative approach to marketing local artists," said Brendon Anthony, director of the Texas Music Office. "It's rare to find cities that are as committed to programs that develop talent and increase opportunity for musicians on the rise."
Fort Worth's music heritage spans decades, from the late jazz great Ornette Coleman and to Oscar-winning producer T Bone Burnett and today's R&B breakout star Leon Bridges. The city is also home to legendary music venues including Billy Bob's Texas and the White Elephant Saloon.
"We are proud to work with Visit Fort Worth on this special program. We want to share our studio with emerging artists looking for the opportunity to develop," said Chris Vivion of Niles City Sound, the Near Southside studio that discovered Bridges.
Niles City Sound was founded by Vivion and two former members of the indie band White Denim, Josh Block and Austin Jenkins. They gained a reputation for capturing authentic sound with vintage recording equipment.
In 2016 Visit Fort Worth introduced the music video Things to Do, which remains one of the most popular social media posts in the organization's history. The video featured top visitor spots and music by Grady Spencer and the Work.
Also on Wednesday, Visit Fort Worth celebrated the third anniversary of the Fort Worth Film Commission with highlights from recent activity, including:
"This is a great beginning," said Film Commissioner Jessica Christopherson. "We have hosted some high-profile projects and assisted many local filmmakers thanks to incredible support from our partners."
Visit Fort Worth is the city's destination marketing organization. In 2017 the city welcomed a record 9.1 million visitors, supporting more than 23,000 jobs and delivering a $2.4 billion economic impact.
For more:
VisitFortWorth.com, @visitfortworth
HearFortWorth.com, @hearfortworth
FilmFortWorth.com, @filmfortworth