Passover –– the Jewish holiday that commemorates the freedom from slavery and the promise of redemption –– is usually a communal and festive holiday. Here are a few ways to celebrate the festival at home, which runs from sundown on March 27 to sundown April 4.

Bubbe's Secret Recipe
Bubbe is Yiddish for grandmother.  And, no one is a better cook than grandma, right? Matzo Ball Soup is something we make year-round, but it's especially handy when it comes to eating during Passover. A simple, yet amazing, matzoh ball recipe from Joan Nathan's seminal Jewish Cooking in America follows. You will only need five ingredients:
4 eggs
2 tbsp schmaltz (chicken fat) or vegetable oil
½ cup club soda or seltzer water (if you must, expend a bottle of Topo Chico plain and drink the rest)
1 cup matzo meal
Seasoning: salt, pepper, and onion or garlic salt to taste
*You may also add parsley, dill, or cilantro for garnish.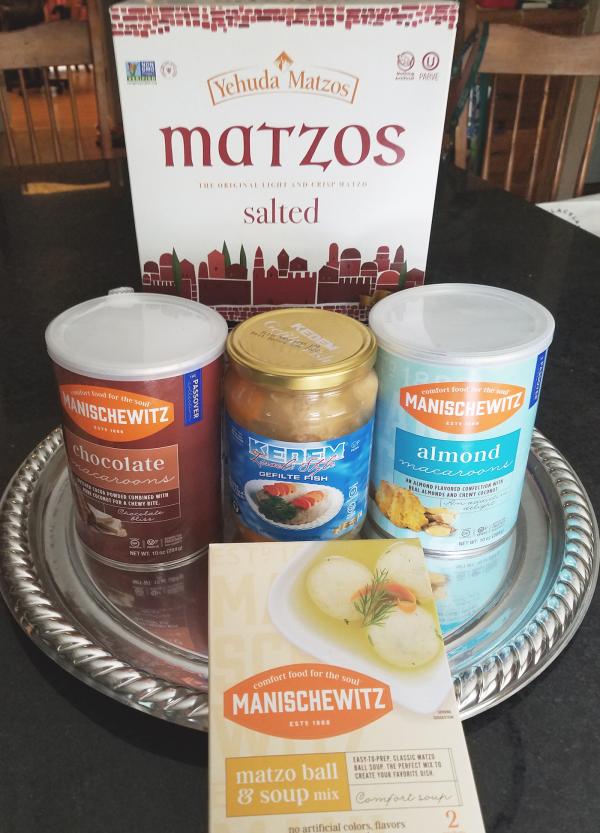 Tips from Chef Bria Downey (to make it your own): 
Use lots of fresh herbs [to season]! I use thyme, rosemary and parsley.
When making the stock, I use extra garlic. I usually double what normal stock calls for.
It's totally optional, but I add a dark meat chicken when adding protein.
When making the actual matzo balls, I use shmaltz and room temperature eggs. It makes a huge difference in flavor and texture. 
 
Instructions
Mix the eggs with a fork until blended. Add the fat (or oil), soda, matzo meal and seasonings. Refrigerate for at least 20 minutes. You can make this the night before if desired.
Remove bowl from refrigerator and set aside. Bring a pot of water to a boil on medium heat and add a generous amount of salt (may use chicken stock instead). 
Fill another small bowl with water and set aside. Scoop a spoonful of dough into your hand, transferring hands as you dip both into the small bowl of water one at a time, and then roll a ping-pong ball-sized amount of dough –– too much handling will make the dough hard and unappealing. You'll get about 12-15 balls, depending on the size of your spoon. When you've shaped all the dough, place in the boiling liquid, return water to a simmer, and continue to cook for about 30 minutes.
The matzo balls are done when you cut into one and it's completely fluffy and not hard in the middle. Serve these with your favorite chicken soup, stock or veggie broth.
---
The Seder Meal
The Seder is a ritual performed by a community or by multiple generations of a family, involving the retelling of the Jews' journey from bondage to freedom the first night of Passover. This story is in the Book of Exodus (Shemot) in The Hebrew Bible. It's the most commonly celebrated of Jewish rituals and includes reading, drinking wine, telling stories, eating special foods, singing and other Passover traditions.

Nothing Leavened
This means not consuming any dough that has risen (usually dough containing yeast, baking powder or baking soda). The Jews packed in a hurry when they were released from bondage, and they did not have time to wait for the bread they'd prepared (think soft, fluffy, pita bread) to rise. As a result, we consume matzah (unleavened bread) for the duration.
While many stores (and Amazon) have matzo to sell, you can also make your own. Here's a recipe courtesy of the Union for Reform Judaism. You have 18 minutes (no more!) to get the dough into the oven.
 
---
The Afikoman
A fun part of the Passover seder for kids is the search for the Afikoman (a piece of matzah that a grownup has hidden.) If you have kids, they may enjoy this clip from Shalom Sesame. For a little more detail on this part of the ritual, you can visit Chabad.org.

But Really, Nothing Leavened
If you've ever attempted the Whole 30 Program, you've observed the strictest of the Passover rules: no grains. While matzah is considered acceptable during the week-long observance, some Jews will also incorporate corn or rice into their diets this week. Mexican or Tex-Mex food is a local go-to.
Main 📸: hipokrat (iStock)