Spring has started building velocity hurtling toward summer, which makes now an excellent time for you to plan a fast-paced excursion to Fort Worth's Trinity Trails. 

Actually, you can proceed at a comfortable speed. The trails aren't going anywhere - they're permanent fixtures and they keep adding more segments. You can use them whether you're booking it on your racing bike, cantering on your favorite mount, or ambling on foot. Here are some (mostly) new things to check out as you go.
New Trails in East Fort Worth
A new trail section runs for two miles in east Fort Worth, originating just east of Quanah Parker Park. If you continue to ride west, you can start on this stretch and pick up the system all the way west to Benbrook Lake or north to Buck Sansom Park.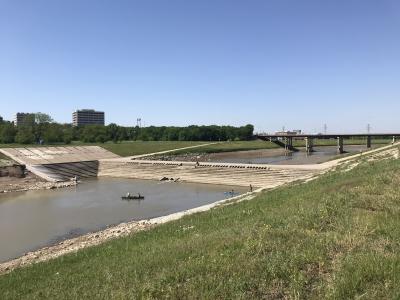 To do so, you'll need to cross Randol Mill Road, wind past the baseball field, and then make your way through Gateway Park to the Gateway Park South Trailhead.

New Trails in West Fort Worth
If you're on the west side, you'll want to be aware of the new Waterside extension. It runs right behind the hip new shopping center on Bryant Irvin, so if your backpack can accommodate new mountain climbing gear, organic produce, and a few slices of pizza, you can get some errands done before or after your ride.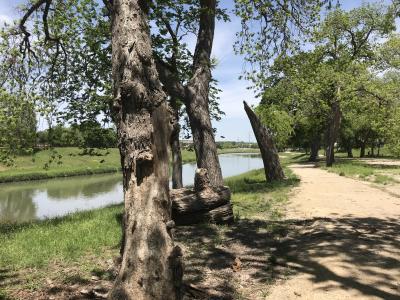 PC: Trail near Waterside
You can also relax before or after your trip in The Grove at Waterside, an outdoor area featuring lounge seating and free wi-fi.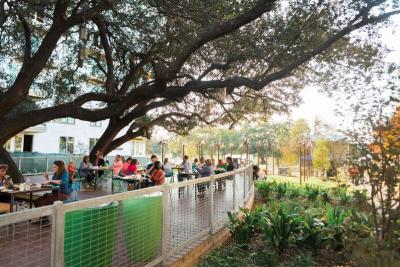 PC: The Grove at Waterside
*Note that the Waterside section of trail has been extended from the Shannon's Point trailhead, but it is not yet paved. Also, construction is ongoing on a trailhead at the shopping center, so you'll need to carefully navigate a path down the hill to reach the trail.

Scenic Trails
Is a one-year-old still a baby? We're not sure if we can still classify Airfield Falls as new, since it opened some 12 months ago. Many of you may not have visited yet, though, so you might want to choose a route that takes you through this trail feature. Enjoy the area's only natural waterfall, the butterfly walk, and the displays referencing the history of the nearby military installation.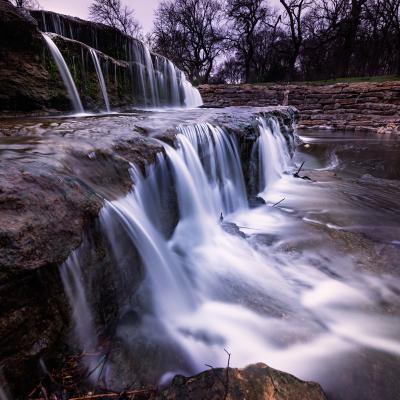 PC: Joseph Dalcour
Spring events will populate various Fort Worth outdoor areas this spring and summer, some of which happen in and around the trail system. The Tarrant Regional Water District offers a calendar on their website of events that have been permitted, so you can either opt to participate or choose a route around them. The City of Fort Worth also has some parks-related events listed on its website.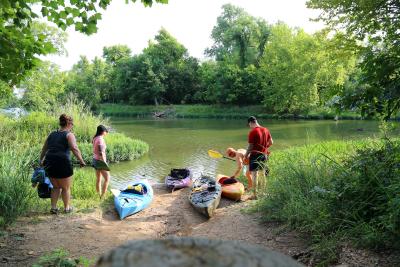 PC: Fort Worth Nature Center and Refuge
The trails offer more than biking and running, too. You can find seven kayaking locations along the river in Tarrant County. Trinity Park has a fishing ramp and pier. Or combine the two pursuits by participating in a Trinity Bass Battle event. It's a kayak fishing tournament series open to all ability levels.

Tips to stay safe on the trails:
If you wear earbuds or headphones to blast motivational tunes as you hoof it along the path, the Tarrant Regional Water District encourages you to keep one ear free of electronics. You need to be able to hear courteous cyclists or inline skaters who alert you when they pass.
911 markers are placed approximately every 1000 feet along the trail. If you did dial 911 in the midst of an emergency, you could give the operator the code on the sign to help first responders find you.
For goodness sakes, pick up after your pet. OK, this isn't really a safety tip, unless you consider the unsanitary nature of poo on a sneaker a health hazard (not an unreasonable position). But if you're walking your pet kangaroo and she unleashes some kangaroo number two, make sure you're prepared to remove it from the trail.
May is Bike to Work Month, and whether you're riding for business or pleasure, the Trinity Trails offer a lot to see and do on your journey. Rent a ride from Fort Worth Bike Share's 40+ stations throughout the city.