Fort Worth's Magnolia Avenue in the Near Southside neighborhood has become a popular stop for foodies. With restaurants representing every populated continent, there is an opportunity to plan a culinary experience featuring food from around the world - all on one street!
Flying Carpet
The first stop in our around journey around the world takes us to Turkey. Flying Carpet is located in a wood house dating to 1909 and decorated with antiques from the Ottoman Empire. The Levant-inspired menu includes everything you would expect including hummus, tabbouleh and kebabs. 
King Tut
You don't have to worry about airfare. On Magnolia, Egypt and Turkey are only separated by a few blocks. King Tut is a Magnolia old-timer, serving up Egyptian fare since 1992. Popular dishes here include the freekah soup, mossaca, shawarma and gyros. 
Nonna Tata
Ok, back across the Mediterranean. Destination: Italy. Nonna Tata's menu is inspired by cuisine from the country's north. With no prior restaurant experience, Donatella Trotti started Nonna Tata in 2006 with recipes her grandmother taught her growing up. 15+ years on and Nonna remains a staple of the Magnolia dining scene. 
The Radler Biergarten
From Tuscany, we hop across the Alps to Germany. Say Guten Tag to the Radler's German-inspired menu, which includes classics like schnitzel fingers and bavarian pretzels. And of course, there's plenty of "bier" options, including a number of Europeean imports in addition to Fort Worth craft selections. 
Gus's Fried Chicken
From the banks of the Rhine to the heartland of America. Gus's World Famous Fried Chicken was founded in the small town of Mason, Tennessee in the 1960s. At the height of the civil rights movement, Gus's became a place where everyone could find common grown over delicious fried chicken. 
Paco's Mexican Cuisine
Fort Worth's cuisine has a heavy Latin American influence, and Magnolia is no different. Paco's Mexican Cuisine is also adjacent to Islas Tropicales, a desert shop with distinctly Mexican-style sweet treats. 
Salsa Limon
Salsa Limon founders Mile and Rosalia, siblings, were raised in a household by parents from Oaxaca and Tamaulipa, states across Mexico from each other. The result was a unique blend of regional Mexican flavors that continues to be a hit. The El Capitan is Salsa's must-try taco.
Yucatan Taco Stand
The charming flavors of the Riviera Maya shine through like the Cancun sun. Yucatan is well-known for it's towering nacho plates and flavorful margaritas, but the menu is packed full of tasty options.
Ober Here
From Mexico, our journey heads across the Pacific. Just off Magnolia, Ober Here is a startup food truck serving up "Filipino comfort food." The Rice Bowls are a must-try with the pork bbq bowl being the top-seller. Stay hydrated with C2, iced tea imported directly from the Philippines. 
Shinjuku Station
Tokyo's Shinjuku Station is the world's busiest train station, handling upwards of three million passengers a day. Fort Worth's Shinjuku Station is quite a bit more laid-back than that, but every bit as authentic. Whether you want Sushi or traditional Japanese Tempura, there's something for everyone at Shinkuku. 
Wabi House
Slightly off Magnola and on the second floor of a building, Wabi House's intimate decor will really make you forget where you really are. Wabi is known for it's Japanese-style ramen and shareable small plates.
Spice by Thai Select
The bold flavors of Southeast Asia shine at Spice. The menu offers a plethora of options, with the various curries being a top choice. We reccomend making multiple trips to get a sampling of everything! Turn up the heat by adding "spice" on a scale of one through five. 
 
Heim BBQ
End your trip where you started: Fort Worth. Heim started in 2016 and helped kick-start the local BBQ revolution. The Magnolia location was the OG, and the uber-succesful restaurant has since expanded to locations across the metroplex. Everything Heim cooks up is great, but be sure to grab some bacon burnt ends. 
Further Exploring
Want to explore more? There's plenty more options just in the Near Southside Neighborhood.
Cat City Grill, Cane Rosso, Paris Coffee Shop, Upper 90, The Beast and Company, Shaw's Patio Bar & Grill, Maggie's RnR, Ellerbe Fine Foods, Spiral Diner, Lili's Bistro and Boulevard of Greens are all also on Magnolia, each offering distinct experiences of thier own. 

Continue your global-influenced expedition to the South Main Village, where you can get a taste of Hawaii at Coco Shrimp, sample more Italian at Tre Mogli, or explore more latin flavors at Leo's Churro Bar and Tinie's. 

Nearby Twilite Lounge offers distinct New Orleans flavors. Chadra Mezza serves up a taste of Lebanese cuisine. Finn MacCool's Pub will transport you to a traditional Irish pub. Taste Community Restaurant offers pay-what-you can meals.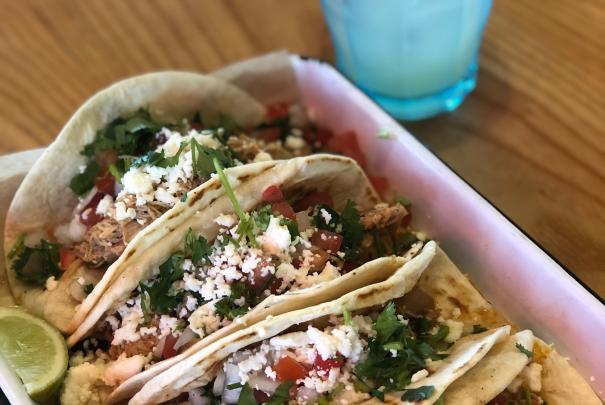 Cinco De Mayo Celebrations
Cinco de Mayo, or the Fifth of May, is a cultural and historical celebration commemorating the Mexican Army's unlikely victory over the French forces at the Battle of Puebla on May 5, 1862. The...
Read More