There are so many eateries and bars in Fort Worth that feature a signature food or beverage – that one item you crave, or go back for over and over. Here are some Fort Worth favorites to try if you're visiting, or revisiting.
Dishes are listed in alphabetical order by establishment name. 
Food Dishes
Corn soufflé with rajas
The restaurant's famous for its stellar brunch, Wagyu beef, and the butcher shop, but this side dish is absolutely on point. You can copy the recipe courtesy of a Houston food writer.
Oysters Texafeller
Bonnell's Fine Texas Cuisine and Waters Restaurant
The appetizer that combines fried oysters, spinach, and hollandaise is one of Bonnel's best, and because no recipe is a secret in Jon Bonnell's kitchen, you can try to recreate these at home.
Grilled Bone Marrow
On the appetizer menu the rich, chef's favorite treat is kissed with herbaceous parsley and slightly sweet fennel. Sourdough bread for dipping gilds the lily here.
The Smoky Chick
Right before COVID closed Fort Worth restaurants, Katrina and Travis Carpenter opened their eponymous restaurant. Travis makes the smoked chicken; Katrina makes it magic as a salad. Enjoy the Smoky Chick regular or spicy, on a wrap, in a salad, or just take a quart of it to go.
Honey Bastard Pizza
On the white sauce side of the menu, the pizza combines honey spiked with habanero pepper, soppressata, and a good amount of fresh mozzarella.
Chicken Fried Steak
Hand-breaded and covered with peppery cream gravy, the plate-sized steak comes with mashed potatoes at dinnertime, or with eggs and home fries at brunch.
Fried Chicken 
For close to four decades, Drew's has served consistently good home-style cooking. Pair your chicken with the okra, collard greens, or broccoli and rice casserole.
Outlaw Burger
Although Fred's recently moved from their original Currie Street location, the Outlaw burger remains the same: A patty with a poblano stuffed with pepper jack cheese, lettuce, homemade guac and pico. Add a small loaded cheese fries for the complete experience.
Bacon Burnt Ends
Once upon a time when Travis and Emma Heim ran their enterprise out of a food truck, the bacon burnt ends were a luxury that sold out quickly. Now they're a fixture on the menu.
Gorgonzola fries
These are way more than standard cheese fries. The delicious waffle fries come out with savory gorgonzola cheese and green onions.
Rocky Mountain Elk loin with hen of the woods mushrooms
The Lonesome Dove Western Bistro
One of the plates that chef Tim Love singles out as his favorite, the complex dish combines lean game meat and a woodsy, lichen-like mushroom with a little salsify, a veggie that looks like a carrot but comes from the dandelion family.
Lobster bisque
The long-time Fort Worth staple is known for their Lobsterfest, where Maine lobsters rule the menu, but can enjoy this uber-rich treat year-round.
Dutch Baby
We've been loving the German pancake's lemony sweetness for six decades.
Jumbo Georges Bank Scallops
Malai Kitchen is a relative newcomer to the restaurant scene in Fort Worth. The tender scallops are served on a bed of authentic pad Thai.
Green pozole soup
The Mexico City-style take on a classic has chicken subbing in for pork. There's also a refreshing pop of lime in the spicy sopa.
Chipotle meatballs
The slightly sweet, smoky cocktail meatballs are a cult favorite with those of us who've been going to the restaurant for three decades and counting.
House-made Corned Beef
Corned beef is a staple in Filipino rice bowls, but it's usually from a can. This homemade beef on the annatto-kissed rice and pickled veg is a delicious gift.
The Roosevelt Special
The combo of a cheese enchilada, a chalupa, and a beef taco was apparently a favorite of President Franklin D. Roosevelt!
Carne Asada and Cheese Enchilada
Somehow the chewy, cheesy goodness of the enchiladas is the perfect pairing with the well-seasoned skirt steak.
Brisket tacos
One of the newer entries on the classic menu is on point, featuring the classic brisket, corn tortillas, and a spicier version of their sauce.
Black Forest cake
It's not the traditional cherry-laden confection. The gluten-free almond meringue layered with whipped cream and chocolate shavings is a lot lighter, and for many of us, it's not a party without this cake.
PB&J wings
Moving away from the strictly savory Buffalo wings, chef Stephon Rishel has created a tasty version with a pad Thai-style peanut sauce and a blackberry coulis glaze.
Drinks
Aztec Old Fashioned
Look for the curtain-covered door at the back of the dining room at Wishbone & Flynt (the other way in is an unmarked door on the street). The Aztec Old Fashioned has topped the menu for several years: Along with rye whiskey, Aztec chocolate bitters and black cherry syrup round out the flavorful drink.
Tasting Flight
Can't decide between the whiskey, vodka, small batch gin, rum, and moonshine? Pick four options in a flight to sample a little of everything.
Raspberry Beret latte
A little nod to the legendary Prince, this raspberry latte has a kiss of chocolate.
Three-Legged Monkey
It's not a complicated shot (Crown Royal, splash of coke, splash of sprite). Maybe the magic comes from drinking one in the World's Largest Honky Tonk.
Classic Blue margarita
Frozen or on the rocks, the celestial blue 'rita can be paired with strawberry, mango, or an extra shot of Grand Marnier.
House margarita
There are multiple options, but stick with the classic (strong as the love your mama has for you) frozen, with the salt rim.
Daily Draft
For $3, the daily draft (or really any of the 60-plus beer and cider options) is a steal.
The Pam Minick
Named for one of Fort Worth's favorite ladies (she was the PR face of Billy Bob's Texas for three decades), the cocktail that features gin and vodka from Blackland Distillery, champagne, and a touch of salty onion brine.
Old Fashioned
The Usual's take on the classic cocktail is impeccable (and will run you $5 during happy hour).
One of the nine train-themed martinis
Whether you like a classic (The Station Master is a slightly dirty martini) or the unusual (The Loose Caboose is an appletini made with plum vodka), drinking a martini in what used to be the major railway hub in North Texas is a treat.
From Dusk 'Til Dawn
Thompson's Bookstore Cocktail Lounge and Speakeasy
Of all the classic cocktails in all the speakeasies in the world, this smoky, coffee-and-chile concoction with mole bitters is perfect for any Bogart-channeling vibes you get from this gin joint.
Puttin' on the Spritz
The bar donates part of the proceeds of the drink – a refreshing combination of vodka, grapefruit juice, grapefruit soda, and aperol – to local artist-run Art Tooth.
Frozen Irish coffee
The recipe's redacted, but if you're looking for a little bit of New Orleans in Funkytown, you've found the right place.
---
Have your own favorite dish you think everyone should know about? Tell us! Send an email to info@fortworth.com. 
---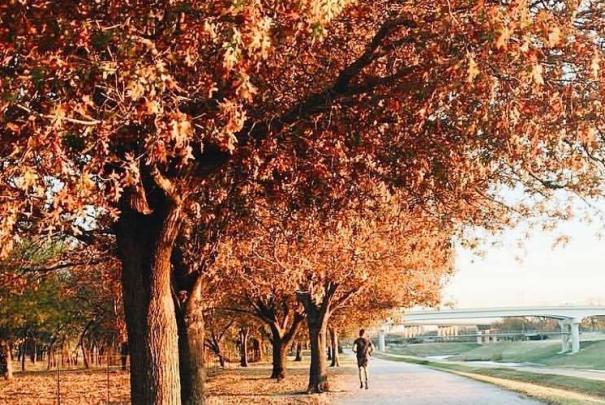 Eight Spots to Find Soup in Fort Worth
Now that the temps are (finally) lower, we're looking forward to comfort foods to keep us going during the cooler months. What better food to bring in the fall season than a hearty and...
Read More