Don't leap off your couch right away to start training for Tri Fort Worth. Finish reading this blog post first. The column will help you, plus you've got a little time. The big race isn't until Sunday, May 21, 2017. However, you do probably need to get started pretty soon, according to William Pruett, owner of CorioVelo multi-sport coaching and consulting company.
"Athletes attempting iron distance should give themselves an 18-24 week training window before the event," said the Burleson-based coach via email, noting that the total time required also depends on the competitor's background and current fitness level.
To complete Tri Fort Worth's full iron distance event, you'll need to swim 2.4 miles, cycle 112 miles, then run a marathon (26.2 miles). If you're going to test yourself with such a race, it's important to remember you need to go all in.
"Taking on the challenge of a long-distance triathlon is a commitment," emailed Katy Durkee of race owner Trident Sports. "From a training perspective, it's important for athletes to understand that planning is key. As the training progresses and workouts get longer, it's not as easy to 'squeeze in a workout' here and there. Ramping up training will require some long training days on the weekends. Since most people work during the day and during the week, it might require some early mornings to squeeze in the extra workouts," added Pruett.
He notes that you need to have your family's support to get this effort done. Durkee suggests also receiving encouragement from fellow athletes.
"It is much easier to get your workouts accomplished when you have a group to train with, or to at least hold you accountable," she said. "I have at least two to three people who serve as my "accountability partners" during training. When my motivation gets low, I make sure we communicate every day about our accomplishments."
You don't necessarily have to tackle the full distance the first time out.
"The ideal situation before someone attempts an iron distance triathlon would be to enter a half-iron distance race and complete it," said Pruett.  "Upon completing the half, then they have a little perspective of the time commitment involved and the training effect upon their body."
Tri Fort Worth, sanctioned by USA Triathlon, will offer a half distance race as well in May.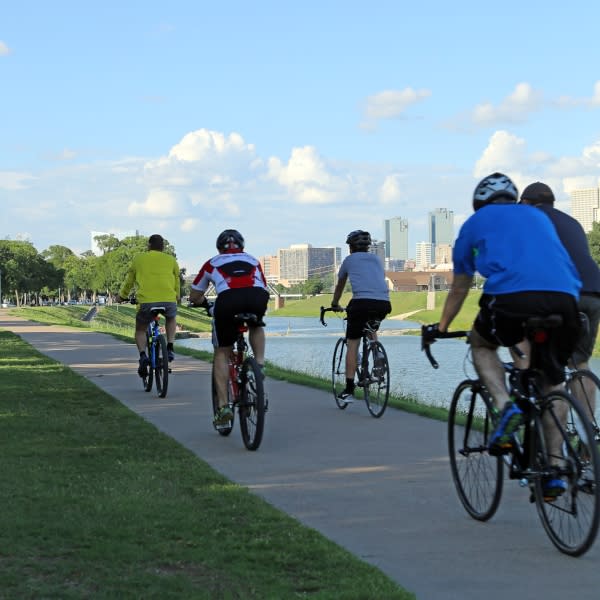 So now you're motivated and set to "tri" this (ha!). What will you need besides moxie? Well, you'll want to get properly equipped.
"There's no shortage of gear and gadgets available to triathletes," points out Durkee.
Stage 2 requires the most obvious large investment. We talked to Steven Howard, a coach from Pedal Hard, at Mellow Johnny's Bike Shop in Fort Worth. He suggested a competitor have a couple of choices: "A road bike with clip-on aero bars or a triathlon-specific bike."
Both Howard and Pruett noted the most important factor about choosing the bike on which you will compete: making sure it fits.
"Being in a position for that long is going to wear you out," said Howard. "If your muscles are strained, you're going to be blown up."
"Have a local bike shop inspect your bike," Pruett suggested. "All of the local bike shops have dealt with iron distance triathletes and can offer sound professional advice."
Luckily, Cowtown has a number of good bike shops to get you rolling, including Mellow Johnny's, Fort Worth Cycling & Fitness, Colonel's Bicycles, Performance Bicycle, Bicycle Center of Fort Worth, Bicycles, Inc. and Bonzai Cycle Werx.
PC: Joseph Haubert
"Running shoes are important," said Pruett. "I recommend athletes have two good pairs for training so they can alternate." He also suggests getting a wet suit that fits you properly.
Durkee added, "The one thing I couldn't live without is my triathlon watch with a heart rate monitor. While it wasn't cheap by any means, if used correctly it can provide you (and your coach) with an enormous amount of information about your training. I use it to monitor my speed, cadence, heart rate, recovery, swim stroke efficiency, calories burned, and I'm sure I'm just scratching the surface of its capabilities."    
Once you get into it, we're sure you'll want the latest training toys. In our next post about Tri Fort Worth, we'll discuss how to best utilize a coach who can help you figure out how best to expend your time and money.
Speaking of finances, Pruett advised: "Make an Iron budget before beginning. Set the amounts for travel, pre-race halfs, registration fees, and any equipment updates and coaching fees.  Because the Tri Fort Worth is local, this should help Fort Worth and Dallas and surrounding area athletes with a few of these expenses."
It's not just money you're budgeting. It's time and relationships. You have to make trade-offs. As Pruett delicately put it,
"The athlete must be mindful that some social commitments might need to be put on hold for a good 18-24 weeks of training."
We interpret that to mean you might need to skip some happy hours. According to Durkee, however, you'll be glad you did.
"When people say that Disney is the 'Happiest Place on Earth,' they've never been to one of these finish lines! I would strongly suggest that everyone, not just athletes participating in the events, come out and spectate an event. The finish line experience at a long distance triathlon is electric, inspiring, and brings tears to my eyes every time, even if I'm not doing the race!"