With Fort Worth's colorful Wild West history, it's no surprise that people allege that several of our better-known buildings may be haunted.
From the lady in white and the gentleman wearing last century's tennis clothing at the 1903 Georgian-style Thistle Hill to the numerous sightings of apparitions and unusual occurrences in the Stockyards (Maverick Fine Western Wear and the Longhorn General Store are both purportedly home to ghosts of cowboys past), many buildings in Fort Worth have a story to tell. But did you know that there are several haunted restaurants in the Fort?

Del Frisco's Double Eagle Steakhouse
One of my favorite white tablecloth restaurants, Del Frisco's Double Eagle Steakhouse, sits in a building that used to be a bathhouse when the area was known as Hell's Half Acre. According to Haunted Places, there's a spirit of a man who was reportedly shot while bathing after gambling in the area. His spirit, decked out in some turn-of-the-century best, apparently likes to hang out in the upstairs bar and banquet room.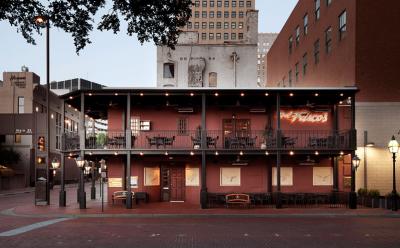 Miss Molly's Hotel
Miss Molly's Hotel is the oldest bed and breakfast in Fort Worth. Originally established as a boarding house in 1910, the property housed a bordello in the 1940's where one ghostly female visitor must not realize that it's a respectable B&B these days because there have been sightings of a mysterious blonde lying down in (occupied) beds of the Cattleman's and Cowboy's rooms (GuideLive). The spirits seem to have left the dining room free and clear, though, guests are welcome to dine downstairs in the Star Cafe if in need of a paranormal break. 

PC: @ray.ww
Miss Molly's is considered one of the most haunted properties in Fort Worth and one of the most active paranormal sites in Texas. 
 
The Jett Building 
The Jett Building in Sundance Square has a significant supernatural history. Several food businesses (a candy factory and a sandwich shop, among others) have come and gone, and the building itself dates back to 1902, when it was the ticket office for the railroad that ran between Dallas and Cleburne. Rooms upstairs housed train employees who needed to stay overnight. When the railroad closed down in the 30s, the former ticket office became a candy factory, while the upstairs was rumored to be a brothel.

PC: @kdbarrettphoto
Is it any wonder that the current tenants (Jamba Juice and KFWR/95.9 The Ranch) have reported some ghostly visitors? According to Waymarking.com, the figures of a woman who appears in mirrors, a child playing with a ball, and a cowboy dressed in black have been seen episodically. Pop in for a Jamba Juice heart-healthy smoothie, and see what pops up!

Red Lobster
Red Lobster on Hulen Street isn't particularly historic or old, but apparently, there's a ghost of a young girl who likes to have a little fun with the cooks. Servers talk about seeing her late in the evening shift, according to Jan Norton from Fort Worth's Ghost Bus Tour. But she's pretty harmless and hasn't upturned a large platter of seafood on anyone.


The Stockyards Hotel
The Stockyards Hotel is a glorious recreation of the early 20th century glory days, with a little more glam thrown in. The Bonnie and Clyde Suite is named after the two outlaws of legend, and it has been said that one of their spirits may be turning the water on and off randomly in their old room. The ghostly hijinks don't seem to have extended to Booger Red's Saloon or the house restaurant H3 Ranch…but then again, you never know.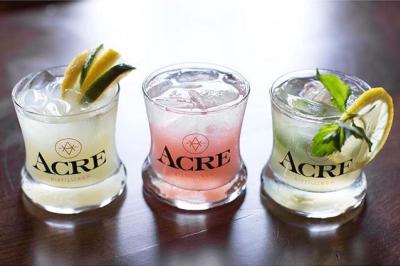 If all of this talk about ghosts has you thirsty for more, check out Fort Worth's Ghost Bus Tour. The tour runs tours weekends by reservation, departing from Acre Distilling Company, one of our favorite haunts. While you learn about Fort Worth's haunted history, you can sample three bespoke cocktails: The Apparition (with vodka and Limoncello), the bourbon-and-gin Bad Man with a Badge, and Hangman's Hooch, a sweet concoction of Acre's peach vodka, peach Schnapps, and black tea.