Howdy, partners. I'd like to take this time to share with you something that is near and dear to my heart, and that's the history of the black cowboy. In addition, I'd love to share how the historical events pertaining to them have greatly influenced the modern-day drover.
As a drover for the Fort Worth Herd, I'm proud to say that approximately one-fourth of the drovers on the cattle drives during the 20-year span following the Civil War were black.
Decades of Western movies and TV shows, and even history books, for that matter, rarely produced images supporting this historical fact.  
Many former slaves, after the Civil War, which began in 1861 and ended in 1865, were hired onto cattle ranches in south Texas, becoming drovers, the term referencing those who herded cattle. The word "drover" predated the term "cowboy."
Bose Ikard, an important figure during the cattle drive era, rode with Oliver Loving and Charles Goodnight on the 700-mile Goodnight-Loving Trail, which according to the Texas State Historical Association, went from Young County, Texas then southwest to Horsehead Crossing on the Pecos River, up the Pecos to Fort Sumner, New Mexico, and on north to Colorado.
When Loving died, Ikard became partners with Goodnight on the drives. Ikard, born a slave in Mississippi in 1843, would eventually end up in Texas, where he later settled in Weatherford.
Ikard, the inspiration behind the character Joshua Deets in "Lonesome Dove," rode with Goodnight and was trusted by him so much so that Ikard was the one carrying the money on the cattle drives, and Goodnight was once quoted saying he trusted Bose Ikard "farther than any living man."
"He was my detective, banker, and everything else in Colorado, New Mexico, and the other wild country I was in."
Bose Ikard was known for being able to ride horses that others couldn't.
One of the most prominent black drovers of the Old West was Nat Love, a former slave who herded cattle on the famous 800-mile Chisholm Trail, which started in San Antonio, passing through the Fort Worth Stockyards, crossing the Red River through Oklahoma and ending at the railheads in three Kansas towns, Abilene, Ellsworth and Dodge City.
Nat Love (first name pronounced Nate), also known as "Deadwood Dick," worked on the Duval Ranch in the Texas panhandle and then the Gallinger Ranch in southern Arizona.
I take great pride in the daily commemoration of such a treasured part of American history
- Donald Lee
Ben Kinchlow was another black drover who herded cattle up the Chisholm Trail. Kinchlow's mother was a half-white free woman who'd taken him and his brother down into Mexico, where runaway slaves would find freedom. Ben went on to learn to ride and break horses while exiled in Mexico.
Slaves who had escaped Texas, gaining their freedom in Mexico, had learned how to handle horses and cattle from Mexican Vaqueros. With their newly acquired skills, they'd head back to post-Civil War Texas, where they'd become valuable assets to Texas ranchers who headed cattle roundups and drives up to market.
When I think of the cattle drive era, which spanned from about 1866 to 1886, I smile at the thought of knowing that the settling of the Old West and the rounding up of wild mustangs and cattle around the southern plains of Texas included my ancestors. I'm proud of that history.
I think it's important that visitors from all walks of life and ancestries know the background of the black drovers and cowboys, as they're an essential part of our history. I look forward to spreading the word and celebrating this history on any given day with the Fort Worth Herd.
So, when I'm driving Longhorns up East Exchange Avenue as a drover for The Herd, I take great pride in the daily commemoration of such a treasured part of American history --- one that includes the contributions of skilled black horsemen and cattle handlers of the 1800s, a legacy carried on today by modern-day black cowboys such as myself.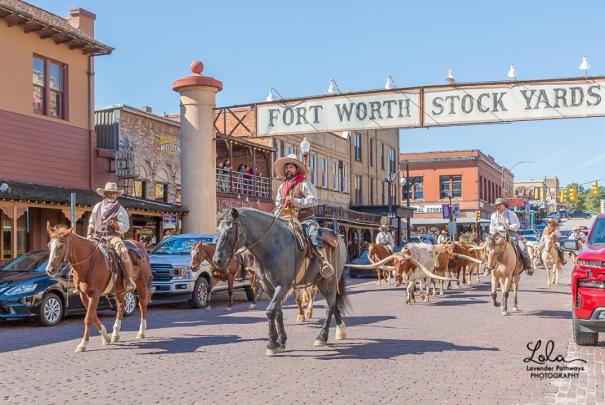 Meet the Fort Worth Herd
Meet the Herd's most eligible bachelors! Introducing LonghornsOnly.com, the exclusive new dating app for the Fort Worth Herd steers! Check back every Friday to see their profiles and learn about...
Read More