Jazz has a singularly unique history. On one hand, it has influenced nearly every American music genre that followed it. But on the other, it remains an underrepresented art form in the public's eye.
Fort Worth's jazz roots run deep and continue to be part of this city's culture thanks to these musicians and venues.  
Johnny Case at Niles City Hall
Fort Worth native Johnny Case is best known for his 28-year stint at Sardines Ristorante Italiano. After Sardines closed several years ago, Case went into semi-retirement, playing occasional gigs and spending more time with his wife Kitty. Last month, Case began playing three days a week (Sunday, Tuesday, and Wednesday evenings) at Niles City Hall.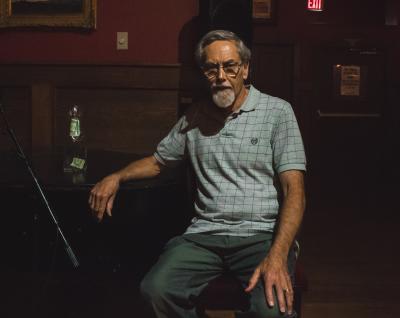 I stopped by to hear him on a recent evening. The Stockyards, he joked, wasn't an area he thought he'd ever be performing straight-ahead jazz gigs in. Niles City Hall is a prohibition-style speakeasy. A long bar and ample seating makes the hall a great place to sip a cocktail and chat with friends. I was sipping whiskey and taking in Case's performances of "Stella by Starlight" and "Have You Met Miss Jones?" With decades of experience behind him, Case said he sometimes mixes in Fats Waller or Western Swing tunes depending on the crowd. Make time to visit this legendary jazz pianist.

Lili's Bistro
Lili's Bistro on West Magnolia Avenue hosts jazz musicians nightly. The intimate space is perfect for dining and listening. You can hear the Johnny Case Trio every Saturday evening. Other local favorites who perform regularly include multi-instrumentalist Joey Carter, guitarist Glenn McLaughlin, 3 If by Sea Trio and others. Follow the music calendar here.
 
Jazz Cafe
Jazz Cafe offers one of the most unique dining experiences in the city. The Visit Fort Worth listings description of "grotto-like dining area and post-apocalyptic patio" is spot on. Sunday brunches are the best time to order from the Greek-inspired menu and enjoy the rotating lineup of jazz pianists, singers and trumpeters.
 
Buttons Restaurant
Chef Keith Hicks keeps it lively at Buttons Restaurant by blending jazz and R&B performances with award-winning southern cuisine. You haven't lived until you've tried their fried chicken and waffles.
Scat Jazz Lounge
Scat Jazz Lounge offers a New York City jazz club experience. The martinis are some of the best in Fort Worth. Regulars include the sultry songstress Tatiana Mayfield, saxophonist and singer Johnny Reno, and Joey Carter. The club also hosts jam sessions and large touring acts. 
Twilite Lounge Fort Worth
Twilite Lounge Fort Worth hosts Dallas jazz trumpeter Jeremy Sinclair Thursday evenings through June.
Fort Worth Central Library
Fort Worth Central Library offers Third Thursday Jazz. The free concerts start at 6:30 p.m. and feature local, national and international jazz artists.