While wandering in the Kimbell this afternoon I viewed Monet's The Gare Saint-Lazare (1877) in their permanent collection. I encouraged a group of ladies passing by to return for the fantastic upcoming exhibit "Monet: The Early Years" that runs from October 16 - January 29. One woman visiting from New York exclaimed that she'd "already seen quite a bit of Monet." To myself I thought, but you haven't seen this exhibit that spans his work from the time he was a teenager to a young man. Some of the pieces have never before been exhibited in the U.S. Paintings are coming from as far away as Japan and as near as Dallas. Private collections and museums in London, Frankfurt, Geneva, Lisbon and many others also contributed.
The more I read and hear about this special exhibition, the more excited I become to view the works of the 17 to 31-year-old Monet who was developing to become the luminous impressionist who would brave the elements to paint until his hands were chapped and bleeding just so that he might thoroughly capture a wintry scene.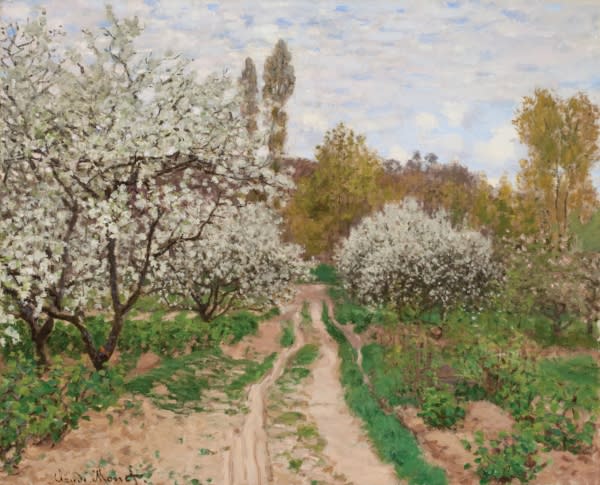 PC: Claude Monet, Apple Trees in Blossom, 1872, Oil on canvas, 22 1/2 x 27 1/8 in. (57 x 69 cm), Union League Club, Chicago
The piece I viewed of a train station belonged to a group of paintings that Monet had, for the first time, dedicated to a single motif. In this series he studied light and atmosphere by painting the same scene over and over at different times of day and from various viewpoints. The paintings contrast the modern train to nature by positioning the white steam and smoke to mirror the fluffy clouds in the sky.
Approximately sixty paintings will be included in the upcoming exhibit that spans Monet's Normandy debut in 1858 until 1872, when he settled in Argenteuil, on the River Seine near Paris. In this exhibit viewers may take in the familiar works in a better context than in the past since they see the artist growing up, taking chances and becoming much more experimental.
In addition to seeing Monet's artistic innovation and personal ambition develop, a kind of biography is mixed in as we see the artist and his wife Camille move from place to place. Paintings from various locations including Paris and Argenteuil, their countrified home fifteen minutes away, may be viewed. In this home they put down roots and crafted a garden. In brilliant compositions Monet paints his wife Camille, his son, flowery apple trees and bright sunflowers with sun-drenched color. The variety of settings includes still lifes of tea sets and fish from the market in addition to romantic depictions of Camille on the beach or tending their infant son Jean.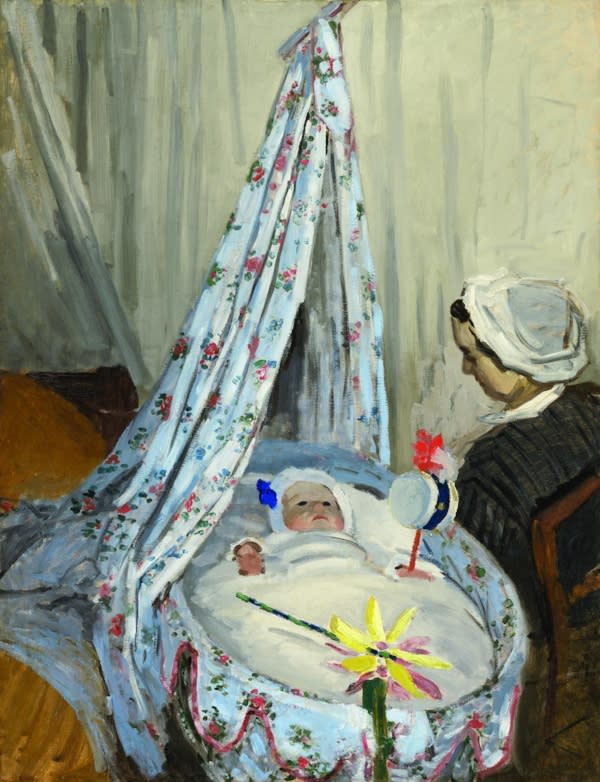 PC: Claude Monet,The Cradle—Camille with the Artist's Son Jean, 1867 ,Oil on canvas, 45 3/4 x 34 7/8 in. (116.2 x 88.8 cm), National Gallery of Art, Washington, DC, Collection of Mr. and Mrs. Paul Mellon
Since Paris was the center for sailing we see many sailboats in Monet's paintings and can admire his energetic brush strokes that seemingly move the vessels through the water on the canvas before our very eyes. The young Monet always seemed to find a surprising and fresh way to depict the ordinary.
Monet once said, "When you go out to paint, try to forget whatever objects you have before you–a tree, a house, a field…Merely think, here is a little square of blue, here an oblong of pink, here a streak of yellow. Paint it just as it looks to you…to give your own naïve impression of the scene before you."
All these spots of color and light Monet painted in both bold and delicate strokes in the flowers, sea waves, sailboats, trains, clouds and sunbathers.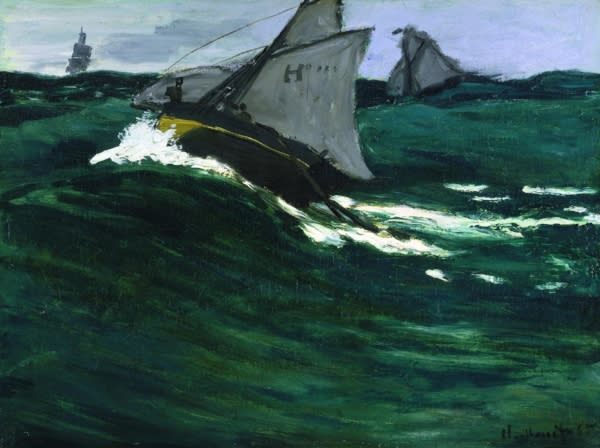 PC: Claude Monet, The Green Wave, c. 1866–67, Oil on canvas, 19 1/8 x 25 1/2 in. (48.6 x 64.8 cm), The Metropolitan Museum of Art, New York, H.O. Havemeyer Collection, Bequest of Mrs. H.O. Havemeyer
 
In these early canvases, the sun worshippers on the beach that Monet painted were dainty and lovely but certainly not wearing bikinis. We see them draped in long flowing cotton frocks. However, the daring Monet occasionally snuck in a lady wearing a long-sleeved, black knicker suit—considered quite risqué for the times. Women just didn't show much skin on the beach in that era.
Another playground for adults that Monet painted, the riverside café resort of La Grenouillère was a popular watering hole in every sense of the word—people quenched their thirsts and also dipped in the water. Monet and his friend Renoir painted similar scenes side by side here. This spa was the subject of Monet's La Grenouillère (1869, The Metropolitan Museum of Art, New York). Although Monet considered this only a sketch (the larger work was lost), the bold strokes are wonderful. The green in the water is the same as that in the background trees and we see a couple of women in the scandalous knicker swimsuits.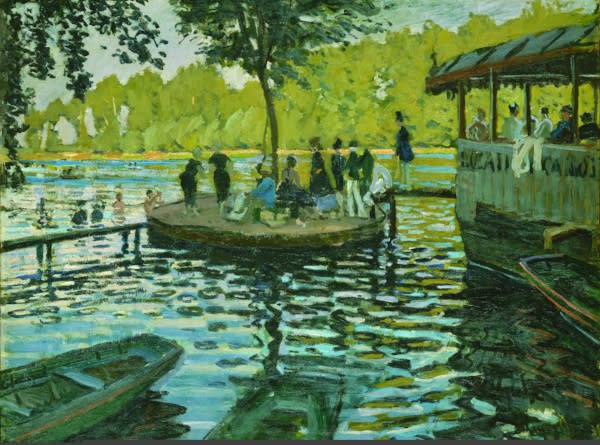 PC: Claude Monet, La Grenouillère, 1869, Oil on canvas, 29 3/8 x 39 1/4 in. (74.6 x 99.7 cm), The Metropolitan Museum of Art, New York, H. O. Havemeyer Collection, Bequest of Mrs. H. O. Havemeyer, 1929
George Shackelford, Kimbell deputy director and the exhibition's curator, graciously spent time chatting with me about the many aspects of this groundbreaking exhibit. He assured me that while viewers may see pieces that are incredibly well known, they'll also be surrounded by novelties that show a youthful, adventurous Monet full of new ideas who willed himself to get better and keep learning to become the artist often dubbed the prince of the Impressionist movement.

Main Image PC: Bank of Seine
Claude Monet, On the Bank of the Seine, Bennecourt, 1868, Oil on canvas, 32 1/8 x 39 5/8 in. (81.5 x 100.7 cm), The Art Institute of Chicago ,Potter Palmer Collction