Whether you're trying to impress a sweetheart, getting over a breakup, or just want to get out with the gals, here are some Valentine's and Galentine's Day events for 2023. For most of these, reservations are a must.
Leading up to Valentine's Day
Billy Bob's Texas offers a perfect Galentines evening February 10 with feisty, four-time Grammy® nominated singer/songwriter Ashley McBryde. The show starts at 10 PM and tickets start at $30.
On Monday February 13, you can participate in Central Market's hands-on, small team class Couples Cook: Cozy French Supper. Tickets are $70 and you'll walk away with both dinner and the recipes.
The Fort Worth Zoo offers events for dads and daughters, Galentines, and couples. The father/father figure and daughter dance happens on February 3, and tickets start at $85 per couple. The Galentines event is on Thursday February 9, and includes heavy hors d'oeuvres, desserts and an open bar, along with some serious time with the animals for $85 per person. And the Valentine's dinner for couples (either Friday or Saturday night February 10 or 11) includes a multi-course dinner, open bar, and animal pics with your sweetie for $250 per couple. All the events benefit the great programs and conservation at the Fort Worth Zoo.
Galentine's Day Tea at The Ruche Collective includes a classic British tea with all the fixins', along with mimosas and decadent desserts. Celebrate friendship on Saturday, February 11 – the event is $45 per person.
Taste the Love is a fundraiser for the Taste Project, our favorite pay-what-you-can restaurant. The sixth annual event benefits the restaurant's mission of providing food for anyone who's hungry. Your tickets for the February 11 dinner are $300 per couple, and must be purchased in advance.
Chef Jon Bonnell invites you to celebrate a Valentines or Galentines at home.  You'll get a fully cooked, cold-packed surf and turf dinner for two for $150. You can add an order of crab cakes or a bottle of bubbles for the full effect. Orders need to be placed with the restaurant by February 7 for pick-up on February 14.
Tuesday, February 14
Beast and Company gilds the lily with a seven-course tasting menu tailored for both omnivores and vegetarians. There are multiple sittings on multiple days, and the event starts at $75 for vegetarians, $90 for omnivores, with an additional wine pairing for $65.
Blue Mesa Grill proves that the classic blue margaritas are for lovers and friends with their Valentine's dinner special: Combo fajitas (beef and chicken), queso, chocolate-covered strawberries and a bottle of bubbly for $35.
Central Market's A Dinner for Someone Special is a demonstration dinner from the African American kitchen of singer/chef/restaurateur and author Alexander Smalls. The instructor-prepared meal includes deviled crab cakes, prime rib with sides, and individual blackberry cobbler – all paired with wine on. Starting at $85.
The Post at River East provides a little anti-Valentine sentiment with Cheating Songs with Raised Right Men at the Post. It's a fun evening of country music covers (about cheating, naturally) that starts at $10.
Roots Fort Worth offers tables for two or four (on request), with cocktails and passed appetizers on the patio, and a three-course dinner including choice of red, white, or sparkling wine. Take away a small floral arrangement and a chocolate sampler. Starting at $150 for two.
Wicked Butcher offers all-day dining, but the evening on Valentine's Day looks exceptional, with tuna carpaccio, oysters, foie gras, ribeye steaks, and more. Prices vary.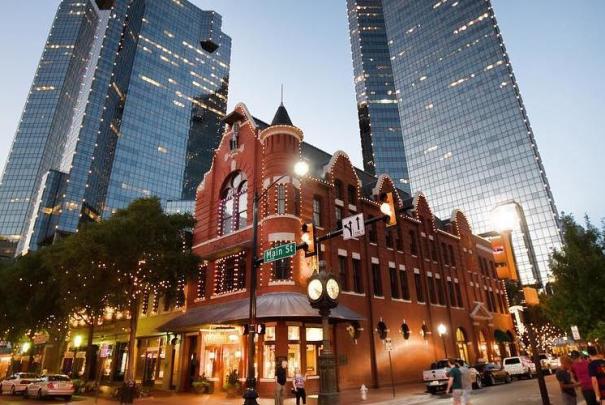 Date Night in Downtown
Downtown Fort Worth is a charmer, as cozy as they come, with rows of historic buildings outlined in lights, brick streets, a bit of history, and plenty to do, eat and explore. This...
Read More