Whether you are tuning in to TCU football, the Superbowl or the Cowboys (the football ones) there are plenty of places in Fort Worth to get in on the action. 
TCU Campus-Adjacent
Dutch's Hamburgers and Dutch's Burrito Bar can always be counted on to crank up the game day fun.
Jon's Grille is a new entry into the TCU scene, and the number of large screens is only rivaled by the number of topping choices for your burger.
Lot 12's elevated bar is a great spot to watch a game (and they've got a ground-floor bar as well).
The Poop Deck on Bluebonnet Circle is always a hot spot. The restaurant's student discount is going to guarantee the place is crowded.
The University Pub  is a local favorite for Frog fans, and they're here for the big game.
Cidercade's Fort Worth location has a few large screens around the bars. It's family-friendly during the day.
Lola's is down the street from TCU, but the indoor/outdoor space should make it a great place to watch the game.
Near Southside
Twilite Lounge, Upper 90, Maggie's R&R, Shaw's Patio Bar and Grill and HopFusion are among the bars/restaurants that will be sure to have a lively crowd of passionate fans tuning in to the game.
7th Street/Crockett Row
America Gardens, Bottled Blonde, Texas Republic, The Landmark Bar & Kitchen, El Chingon, Chimy's, The Social House, and The Concrete Cowboy are all located in or around Crockett Row and offer lots of screens and lots of drinks. 
Nearby Birdie's Social Club offers an indoor/outdoor game-watching experience, and the menu is full of exciting options.
Multiple Locations
BoomerJacks half-price wing deals, a daily happy hour deal and 40 or so televisions per restaurant will keep you happy.
Fred's Texas Café's two locations (one on Camp Bowie West, one on Western Center Blvd) have a few screens, cold beer, and the legendary Fredburger. The Camp Bowie location also has a big screen on its patio!
No Frills Grill & Sports Bar is a local chain offering several large-screen TV options, along with inexpensive food and drinks.
Buffalo Bros has two locations – one near campus, the other in Sundance Square. With 100+ tvs at the Sundance Location, you are sure to get a good seat. 
Outside Downtown
City Works in Clearfork offers a plethora of screens and an equal amount of beer on tap.
Flip's Patio Grill in North Fort Worth has some great pub grub to go along with the game.
Oscar's Pub on Camp Bowie West proudly starts their watching party at 2 PM on New Year's Eve.
It's a good bet that The Stockyards Saloon will switch from rodeo action to the big game.
Heim Barbecue's River District location will often host watch parties, which you can be sure will be well-attended.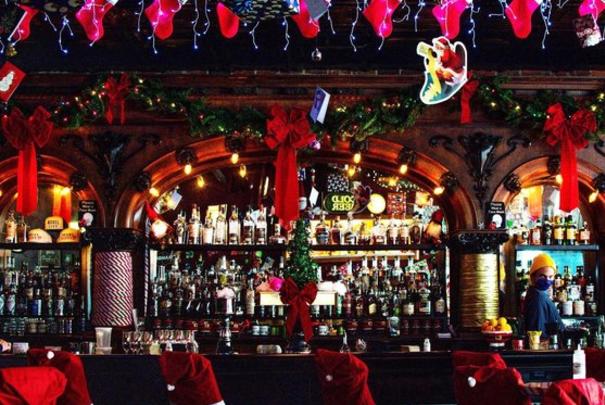 Winter Warmers
Is there a better way to celebrate the holidays than with a festive drink? Luckily for us, the creativity of Fort Worth's culinary and bar scenes turns up during the holidays. Whether you like...
Read More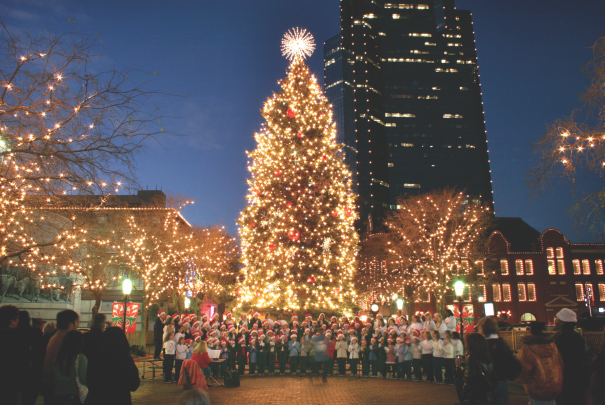 25 Days of Holidays in Fort Worth
Fort Worth is chock full of holiday events, festivals, celebrations and treats that you and your family will love during the most magical time of the year. Ways to Celebrate All Season Long Lightscape...
Read More