Throughout 2017 we've been highlighting cool new developments that are springing up all over town. We've now set our sights on The Foundry District, which stretches out behind Montgomery Plaza on Carroll Street. The space is almost equidistant between the well-established doings on 7th Street and the up-and-coming development on White Settlement Road.

What used to be a stretch of warehouses has been turned into mixed use retail, restaurant and office space courtesy of M2G Ventures, the company run by sisters Susan Miller Gruppi and Jessica Miller.  We caught up with Jessica Miller to ask about the sisters' vision for the former group of warehouses.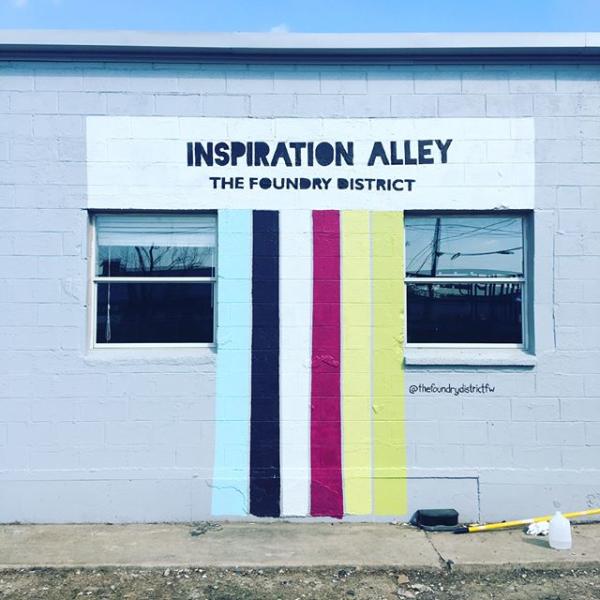 With The Foundry District, Miller says she and her sister "saw an underutilized area in a nice part of town."
She cites the location's character and charm along with the potential for allowing smaller entrepreneurs access to office space close to Fort Worth's Cultural District. While the sisters don't reject the notion of renting to a chain restaurant or retailer, Miller says that their vision is that of a destination place and not a venue that encourages high traffic and fast-paced service. In the Foundry District, you'll find a unique mix of locally-owned retail, business and food.
Inspiration Alley
Over a six-hour stretch in March during Spring Gallery Night, artists painted a series of five murals on the walls of Inspiration Alley. Jessica Miller calls the project "accessible modern art that everyone can enjoy." You might recognize the mural "Don't Quit Your Daydream" by artist Katie Murray, but there are four other murals to view.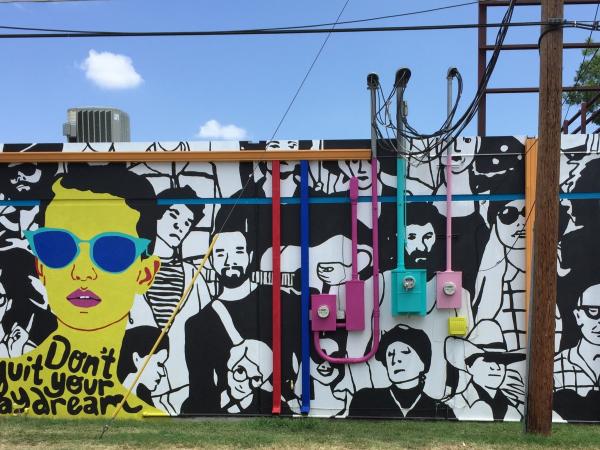 PC: Katie Murray, @katiepaintbrush
Leslie Harding Distler, a former buyer and manager for the legendary Leddy's Ranch in Sundance Square, now owns her own eclectic shop. Feathers offers clothing and accessories in blends of flowing fabrics, denim, suede, fringe and metal. Jewelry and household décor are also included in the shop Distler calls "rugged Tomboy sexy." Feathers also hosts trunk shows (called Fizz and Friends, complete with mimosas), and offers random coupons and deals on their Facebook site.
 
The 1950s-themed burger joint has won its share of awards, including Fort Worth, Texas Magazine's best burger. Owners Chef Danny and Rose Badilla are approaching their 20th anniversary in the local restaurant business. They moved their former 7th Street Station Grill next door to the Leonard Brothers Department Store Museum in 2008, and the rest is history. The restaurant's name is an homage to the subway train that the store built in the heyday of the Leonard Brothers to shuttle folks from their store to external parking. Leonard Brothers was the go-to retailer for Fort Worth residents and folks from neighboring counties for over 50 years.
In landlocked North Texas, surf-quality beaches are hard to come by.  This unique surf-themed fitness club, located "where concrete meets sand," uses surf boards and other equipment to produce a workout that will get your beach body into shape.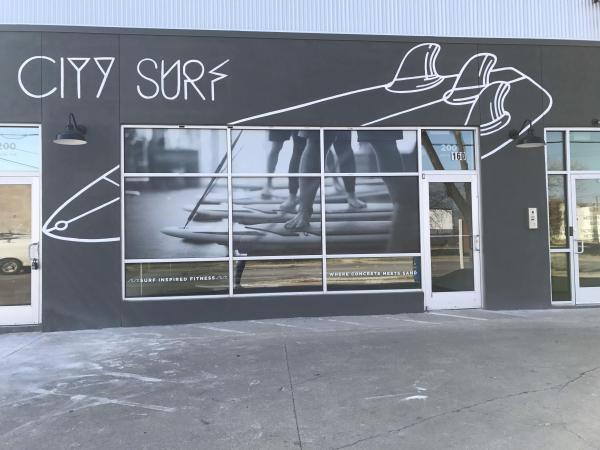 The Lathery is a combination fancy barber shop and retail outlet for unisex grooming products. There are so many salons in town that cater to women –– it's nice to find one for the guys!
Other tenants include the base camp for the Cowtown Marathon and Love Carmen Rose Photography.  Local stalwart Clay Pigeon Food & Drink is also located nearby.