JFK TRIBUTE
On November 22, 1963, President John F. Kennedy gave an impromptu speech to thousands of rain-drenched spectators on the front steps of the historic Hotel Texas, now the Hilton Fort Worth, followed by a formal presentation at the Fort Worth Chamber of Commerce breakfast.
The JFK Tribute in Fort Worth's General Worth Square marks the place and occasion of the President's historic visit with a beautiful Lawrence Ludtke bronze statue of President Kennedy set within an elegant plaza. Selected quotes from a number of JFK's historic speeches including the famous quote pictured below (no faint hearts image) are featured throughout.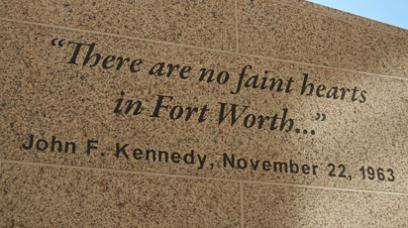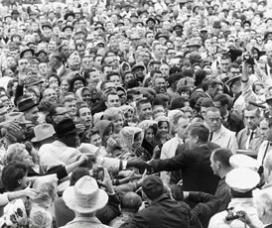 Discover all of the fun Fort Worth things to do for kids and families including the zoo, museums, and more.

Places to Stay

Fort Worth offers a variety of accommodations for every group's style, taste and budget.

Fort Worth celebrates arts and culture throughout the year with events like MAIN ST. Fort Worth Arts Festival,...