Christmas dinner shouldn't be difficult, right? But with mixed and blended families, empty nesters and working hard every week, sometimes having someone cook your Christmas dinner is a blessing.
Here are six options if you're not staying at home on Christmas.
1. Bird Café
Open both Christmas Eve and Christmas Day at 5 p.m. In addition to some of the existing menu with its multitude of tapas-like mini-plates, the chef in the nest at Bird is rolling out a honey-glazed duck with celery root puree, a bone-in pork chop with grits and apple compote, and a bone-in ribeye with broccolini and mushrooms.
Located inside the Sheraton Hotel, The Chef's Table offers American cuisine –– a mix of steak and fish entrées, burgers, wraps, and, of course, pizza. As of this writing, the hours and menu weren't set, but check in the week before the holiday for an update.
If you got tired of turkey at Thanksgiving, Hoya Kitchen's fresh, light Korean cuisine might just be the cure for your turkey blues. Traditional Korean dishes like bibimbap, bulgogi and kimchi mix with Japanese style ramen and teriyaki dishes to create a pan-Asian treat.
This Christmas menu features your choice of salads and a very traditional turkey and ham entrée. The Fort Worth stalwart's open from 11 a.m. until 9:30 p.m.
The Omni Hotel offers a prix fixe Christmas Brunch. Everything you could want –– from prime rib and turkey to crab claws and traditional breakfast fixins'–– is on the menu. If you're planning a dinner for 25 or more and don't want to host at your house, the Omni has two holiday menus from which to choose, and both of them include the Omni's semi-legendary dessert, the apple pie in a jar. You can book private dining at the hotel, or pick up dinner to go –– order by December 21 for pick-up on Christmas day.
The kitchen at Ruth's Chris Steakhouse will be open for both lunch and dinner. If you're dreaming of a Porterhouse or a Tomahawk steak Christmas, or maybe lobster bisque, this is the place to go!
For most of these options, you'd be well-served to plan ahead and call for reservations.
Where to Order Tamales...
As an aside, Christmas time means tamale time in Texas. If you want tamales, better get in line now.
1. Benito's will sell you pork tamales to-go until Christmas Eve (and again when they open back up on December 26).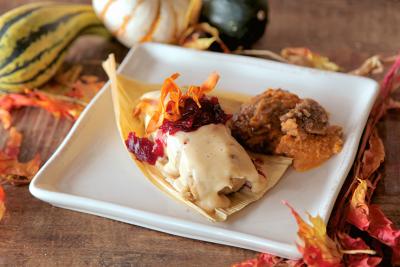 2. If you can't make it to the storefront on Magnolia Ave., Hot Damn Tamales will ship their traditional, vegan, or vegetarian versions right to your door.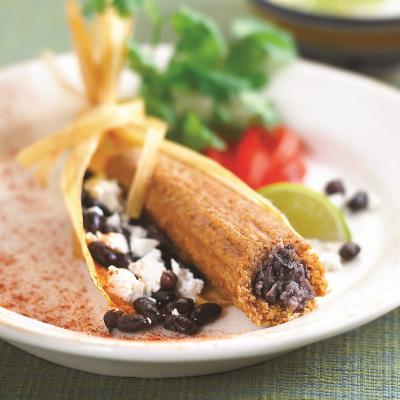 3. Central Market has tamales year 'round, and the grocery store with everything even stocks the masa flour to home-make the Christmas treat.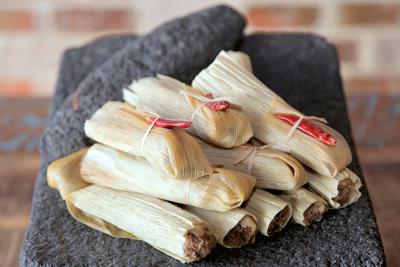 4. Mariposa's Latin Kitchen has possibly the largest tamale menu in town. From the seasonal pork tenderloin and turkey and dressing tamales (only available from Thanksgiving through Christmas), to the traditional chicken and pork, to the veggie black bean, carrot and mushroom version, there's a little something for everyone here.