A convention for the books is coming to town June 7-10. A-Kon, the longest-running Anime convention in America, will bring 33,000 costumed fans to Fort Worth. Get your tickets here. 
If you're attending, here are a few important points to help you get acclimated to the city.
 
1. GET HERE AND PARK IT
Once you arrive to downtown, attendee parking will be available from two garages: the first located at Commerce Street and East 14th and the second at the corner of Houston Street and 11th. Surface lot parking will also be available throughout downtown. 
Metered street parking will be available (free on Saturdays and Sundays) and can easily be monitored with the use of the Park Mobile app. Simply pay the meter from your phone once the app is downloaded as well as buy more time.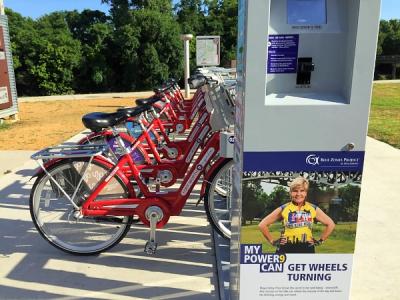 PC: Fort Worth Bike Share, 40+ stations located throughout the city. 
 
2. OpTic Arena 
OpTic Gaming, A-Kon and NGAGE eSports have teamed up to bring a new experience to the conference - the OpTic Arena. The arena will feature gaming's hottest talent, tournament play and tons of prizes waiting to be won. 
Ticket price is $79 and includes access to OpTic Arena, A-kon, the 24 Hour Gaming Lounge in the Omni and the Fortnite Battle Royale event. If you wish to enter the fighting game tournaments, you must purchase a pass and then pay a $10 entry fee to enter each tournament. Learn more here.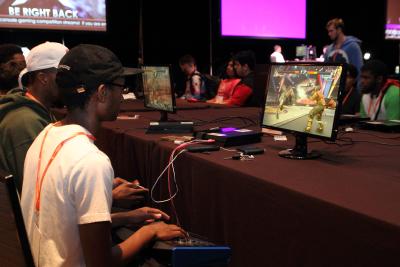 PC: Eric Brophy, A-Kon 2017

3. SECURITY
Your safety is important to us. Many security patrols monitor the downtown corridor 24 hours a day (some on mounted patrol or bicycle). These individuals are clearly identified and dressed in dark uniforms or lime green. Please ask for assistance if you need it!
Sundance Square Plaza, located in the northern part of downtown, is considered private property and closes to the public at midnight on Friday and Saturdays, 11 p.m. all other nights of the week. Please be aware of this when departing late-night events at the Convention Center. 
Following A-Kon's prop policy outside of the Center is appreciated. Props that look like weapons and any type of masks covering your face are not permitted inside (or outside) of businesses. Please leave your mask and props at the hotel before exploring the city.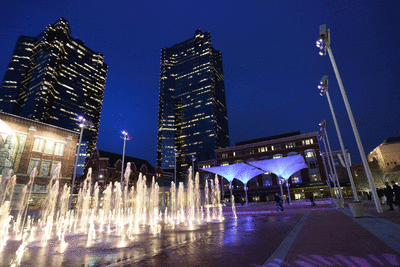 PC: Sundance Square Plaza
 
4. CAFFEINE FIX
A hot cup of Joe is just the pick-me-up you will need after a long night of gaming. Stretch your legs and see the city before heading back to the convention center and stop by one of our favorite coffee shops.
Downtown spots not to miss: Casablanca Coffee, Starbucks (inside the Omni, Hilton and Sheraton Hotels as well as Sundance Square), Acre Distillery and Coffeehouse (serves small plates all day as well as cocktails for the 21+ crowd), Four Star Coffee Bar, Buon Giorno Coffee, Sons of Liberty and Black Rooster.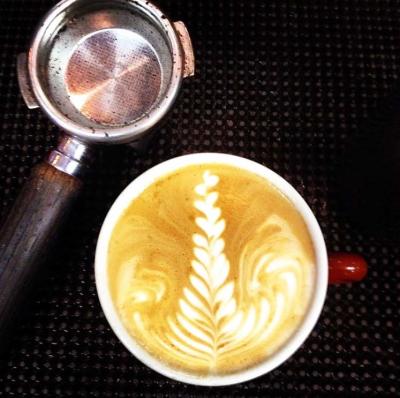 5. EMERGENCY MATERIAL SHOPS
It's a dire moment when you realize the costume you've been working tirelessly on has caught a snag or malfunctioned. Head to one of the following stores for an emergency fix: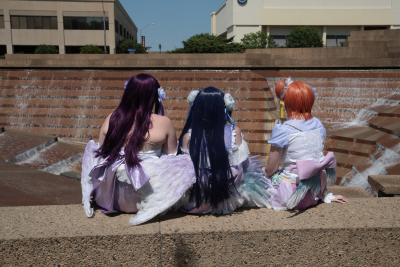 6. SEE THE SIGHTS
Catch a free ride on our downtown bus, Molly the Trolley. Molly runs from 10 a.m. to midnight Thursday - Saturday, 10 a.m. to 10 p.m. Sunday.
A few of our favorite attractions are free and near to the Convention Center, such as the Fort Worth Water Gardens. Read about them all in our Top 10 Free Things to Do blog.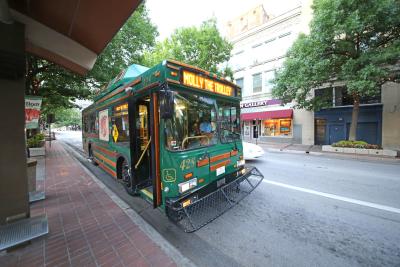 PC: Molly the Trolley, Fort Worth's free downtown bus
 
7. TOP THINGS TO REMEMBER 
Parking is limited. Public transportation for locals is highly encouraged to reduce downtown congestion. 
Have a great time at A-Kon, but please remember to leave your masks and props at the hotel before exploring the city as they will not be permitted in or outside of most establishments.
The northern half of downtown Fort Worth is mostly private property. Enjoy and explore, but please respect our family-friendly atmosphere.
Schedule sleep time too! The majority of downtown Fort Worth, including Sundance Square Plaza, is closed after midnight.
Visit www.FortWorth.com for more information about Fort Worth. Tweet @VisitFortWorth for real time info/ updates on top things to see and do.