View the 2024 Total Solar Eclipse in The Unexpected City 
In 2024, Fort Worth will add another attraction to its roster when one of the most fascinating celestial events of the decade passes right over the city.
What: 
A total solar eclipse happens when the moon passes between the sun and earth, completely blocking the sun and darkening the sky.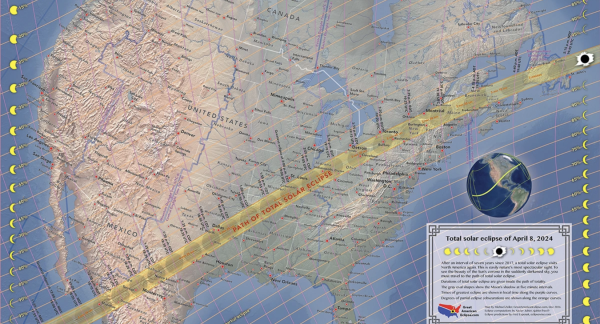 The total solar eclipse path crosses from Mexico, through the United States from Texas to Maine, and up through Canada. Image Credit: ©2021 Great American Eclipse, LLC
When: 
The 2024 Solar Eclipse will be visible in Fort Worth, TX beginning at 1:40 PM CDT on April 8, 2024 for approximately 2:33 minutes.
Why Fort Worth: 
The total solar eclipse will enter the US in Texas and will pass right over Fort Worth. What better place to witness this galactic spectacle than in the Unexpected City!
Enjoy the rare view on a downtown rooftop, on the banks of the Trinity River or from a variety of overlook points across the city.
The next total eclipse that can be seen from the United States will be on Aug. 23, 2044. Don't miss this incredible opportunity to visit the Modern West and experience this once in a lifetime event.