ACCOLADES
50 Best Places to Travel in 2021 (Travel & Leisure)
Home of #1 and #5 hotels in DFW, the Hotel Drover and Ashton Hotel (Travel & Leisure, 2022)
8 underrated US destinations that should be on your radar in 2021 (Oyster.com, 2021)
21 Best Places to Retire in 2021 (RetireBetterNow.com, 2021)
#2 Zoo in America (USA Today, 2021)
Among the top LGBTQ+Friendly Destinations (Forbes, 2022)
Trinity River among top 7 places to go tubing in the State of Texas (Wide Open Country, 2020)
The 25 Best Places for Young Professionals (U.S. News & World Report, 2020)
The first music-friendly city in Texas as designated by the Texas Music Office in the Office of the Governor
FUN FACTS
Stockyards National Historic District features Fort Worth's western heritage, including daily cattle drives, year-round rodeo and the world's largest honky-tonk.
Cultural District contains five world-class museums, designed by renowned architects, in a walkable, landscaped area.
Vibrant, walkable downtown features Sundance Square Plaza, nightlife, Bass Performance Hall, corporate headquarters, green spaces and public art.
Fort Worth bike share program offers more than 50 stations connecting the city's leading attractions.
One of America's Dozen Most Distinctive Destinations (National Trust for Historic Preservation).
Home to contemporary western cuisine, innovative breweries and distilleries and the annual Fort Worth Food and Wine Festival.
Home to many outdoor festivals and celebrations including Main Street Fort Worth Arts Festival, Parade of Lights, Mayfest, Rockin' the River and concerts on the banks of the Trinity River at Panther Island Pavilion.
In 1909, the Fort Worth Zoo opened as the first zoo in Texas.
20 minutes from DFW International Airport and AT&T Stadium.
Home to TCU, a national university and member of Big 12 Conference
60 percent of America's paper money is printed at the U.S. Bureau of Engraving and Printing Western Currency Facility in Fort Worth (tours are available). It is the only facility outside of Washington D.C.
Fort Worth's Texas Motor Speedway is one of the largest racing facilities in the nation, with seating for nearly 155,000 spectators. It's home to the largest High-definition screen in the world (Big Hoss TV).
Fort Worth ranks high in the Human Rights Campaign's Municipal Equality Index (MEI), which demonstrates the ways that many cities support the LGBT people who live and work there. With a score of 100, Fort Worth ranks among the highest in the state of Texas.
Fort Worth was one of the first major cities in Texas to establish a human rights commission, in 1967. In 2009 non-discrimination protection was extended to include sexual orientation, transgender, gender expression and gender identity.
Upcoming attractions include the National Juneteenth Museum, future Stockyards Expansion, new developments downtown and Zoo Enhancements.
 
HOSPITALITY AND TOURISM
Estimated number of out-of-town visitors to Fort Worth: 9.4 million annually
Economic impact of visitors to Fort Worth: $2.6 billion annually
Tourism employs over 24,000+ hospitality and tourism industry workers
Total Hotel rooms: 13,477
Total rooms downtown: 2,622
Hotel tax: 15%; breaks down to 6% state, 9% city
Sales tax: 8.25%
Top international visitor markets to Fort Worth include: Mexico, Canada, UK, Australia, Germany and China.
 
WEATHER
| Climate | Month | Avg. High | Avg. Low |
| --- | --- | --- | --- |
| Coldest month | January | 54 | 34 |
| Hottest month | July | 95 | 75 |
POPULATION
City of Fort Worth: 935,508 (2021 census estimate)
Youngest City in Texas (average age of 31.5)
Metro Population: 8,097,170 (2022 NCTCOG estimate)
DFW AIRPORT
Served by 28 Airlines
625,000 daily passengers
3rd busiest airport in the world by operations
2nd busiest in the world by passenger movement
51 international destinations
188 domestic destinations, most of any US airport
Every major city in the continental US accessible in four hours
168 gates and 7 runways
Largest carbon neutral airport in the world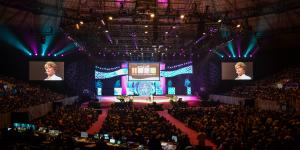 Ease of Accessibility
The Fort Worth Convention Center offers an optimal location, ample space and unlimited versatility.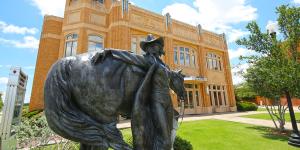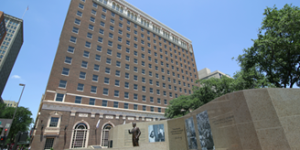 Places to Stay
Fort Worth offers a variety of accommodations for every group's style, taste and budget.